Lucky King Bun is Seremban's Next Big Thing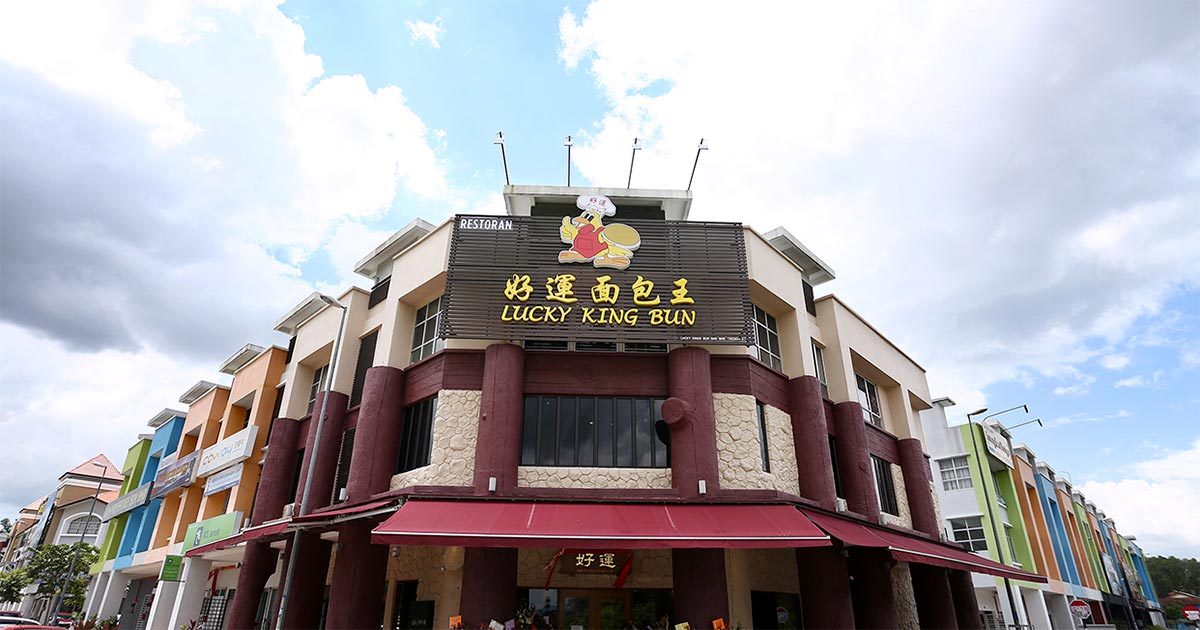 Seremban has always been famous for its beef noodles, roast duck, BBQ crabs and the siew pau but the Lucky King Bun is starting to make its foray into the competitive food business as the next big thing.
Previously known as the curry chicken bun when the idea was first mooted in 1997, it has since been rebranded, and now, it comes with a wide repertoire of seafood and other dishes which can be enjoyed in a cosy restaurant ambience.
Besides the Curry Chicken Bun, they also have the Yin Yong Bun and the Curry Pork Ribs Bun. Ying Yong, or the Cantonese for 'Ying and Yang', is a combination of Curry Pork Ribs and Dongpo Pork Bun all in one bun.
I particularly like the curry chicken gravy in the Curry Chicken Bun, which can dip your bread into or take with plain rice.
The Lucky King Bun was formerly done by one Madam Lew Yook Pit who has since passed on, and the business is now operated by her children.
When I first wrote about the curry chicken buns, I had the difficulty of putting a name to it. It was only known as Seremban's Curry Chicken Bun, but after nearly ten years, I am delighted to see that a brand has evolved.
As a student of branding, I can see that their latest rebranding exercise will help to boost the business further, as it has a great potential for a bigger growth ahead
They even have a mascot on display in the restaurant for children to snap photographs with.
When we decided to check out their flagship Lucky King Bun restaurant at Bukit Kepayang in the new township of Seremban 2 last week, I delighted to learn that the restaurant would be turning two by November this year.
What amazes me is that despite catering to tourists from China and Singapore in bus loads, the restaurant has been able to keep the fine balance between good standards and both the restaurant ambience and their food prices.
Most importantly, the food is good and the portions are also big enough for ten people, costing only RM260 ++ for a table. It was indeed a sumptuous lunch after arriving in Seremban. Prices are still very reasonable by Petaling Jaya standards, making a day trip to Seremban viable.
There are eight dishes in the full course – the Dragon Tiger Seafood Pot, Curry Chicken Bun, Crispy Nest Salad Chicken, Honey Pork Belly, Salted Egg French Beans, Pumpkin tofu, Stir-fried Vegetables, Fu Yong Eggs and deserts.
The Dragon Tiger Seafood Pot is one of their signature dishes which comes with crabs, prawns, cuttlefish, clams and handmade meatballs, and a combination of milky and mild curry soup that even children can enjoy when served with the bee hoon and bean sprout from a hot boiling pot.
The Salted Egg French Beans is another of my favourite dish. Although it is a simple dish, I find the taste to be just great for me. The Crispy Nest Salad Chicken and Honey Pork Belly are also worth checking out.
Because the turnover of Lucky King buns, the curry chicken in it, for example, is always fresh and the bun has a nice soft texture to it. Being a newbie in Chinese food tasting sessions, my guest, Merilin Sarkar who is an international student with a local university, enjoyed the Dragon Tiger Seafood because of the different choices of seafood in just one dish.
Lucky King Bun Restaurant is located at:
No 28 and 29 Jalan MPK 6, Medan Perdagangan Kepayang, 70200 Seremban.
Tel: 011-3129 9393/ 03-6311755.
They are open six days a week from 11.30am – 10.00pm (closed on Tuesdays except when it falls on a public holiday).
The other Lucky Bun Restaurant is located at:
No 4366, Taman Aman, Jalan Besar, Lukut, Port Dickson. Tel: 06-6512392.
Check out their Facebook Page:
https://www.facebook.com/luckykingbun/
Waze Location
https://www.waze.com/location?h=w22rrn4fv
STEPHEN NG is an ordinary citizen with an avid interest in all sorts of gastronomical delights – Western, Middle Eastern and Asian.