Ballerina loses sight, but gains new vision through her foundation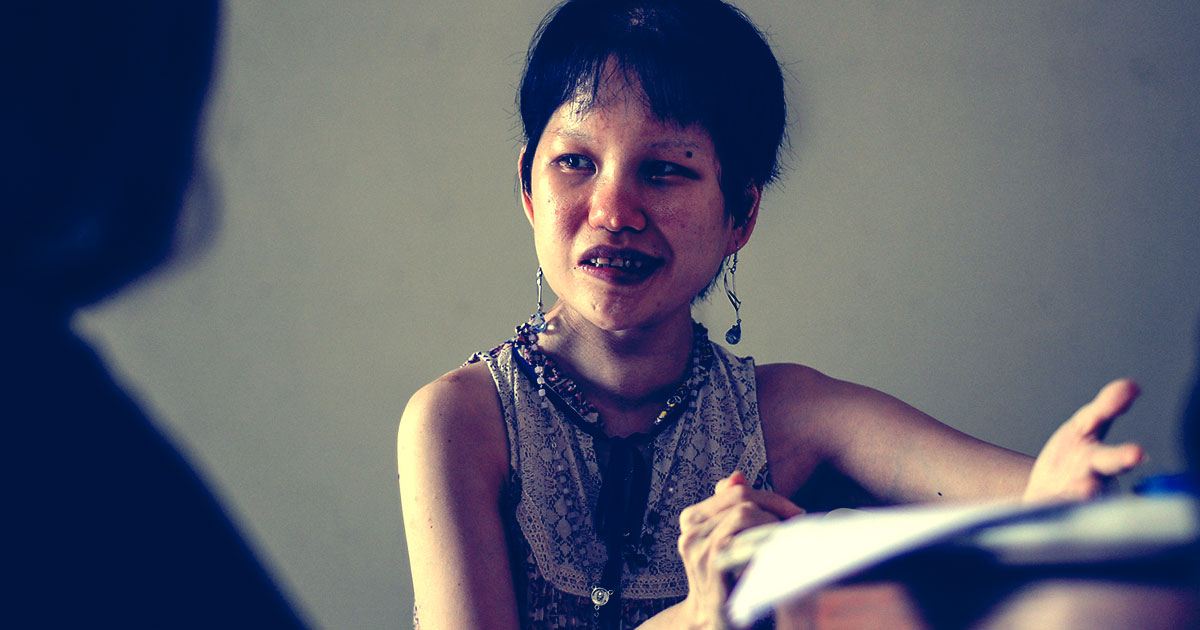 For Yvonne Foong, setting up an international foundation and writing her second book seems like the most natural thing to do.
This is despite her losing her sight a year ago, and her hearing when she was 19 years old.
Foong, 31, has Neurofibromatosis Type 2 (NF2), an incurable illness where benign tumours develop in the nervous system which caused her to lose her hearing in her teens and later on, her vision.
Undeterred by the disease and its complications, she continues to pursue her goals of helping others through her foundation aimed at NF2 patients worldwide.
On a sunny day in Petaling Jaya, Foong spoke to Malaysiakini about her childhood experiences that have set her on a trajectory for her mission in life.
Before the interview began, her mother reassured me that I would be able to communicate with Foong by writing on her palm.
The petite Foong sat down next to me, greeting me with a smile and a spirited wave.
She extended her left arm and opened her palm, miming writing on it.
I moved my index finger to form a "how" on her palm, and she nodded and vocalised each word as I wrote.
"How do you feel today?" I completed writing the rest of my question on her palm.
"I am a little tired today," she replied.
She had been busy yesterday, she explained, working with her personal assistant Hui Li on a PowerPoint presentation for the talk she will be giving on Sunday at the Federal Academy of Ballet (FAB), where she used to dance.
She said she used to edit her PowerPoint presentations herself but has needed Hui Li's help ever since she lost her eyesight last year.
Even so, her voice is jovial and spirited, filling the living room of her house, furnished with a few pieces of rattan furniture and a vase of fake flowers near the window.
I moved my finger on her palm to ask her if this is her childhood home.
She did not grow up in this house but in Subang Jaya, she said.
One of Foong's earliest childhood memories was making frequent trips to the hospital when her father suffered a brain haemorrhage.
"My father's brain was damaged in a way he was unable to control his emotions or express himself congruently," she told me.
Unaware of symptoms
Her aunt Ivy, her father's younger sister, was close to her father and she stepped in to care for Foong as her mother became burdened with caring for her father.
"See this deformity in my left eye?
"My aunt realised how my left eye affected my self-esteem and also that my parents were unable to care for me optimally, so she sent me to learn ballet at FAB," she said, recounting her youth.
In addition to ballet lessons, Ivy sent her niece to figure skating classes and squash lessons in the hope that Foong would "grow up like a normal child".
Under her aunt's tutelage, Foong's daily life as a child soon became inundated with activities, which she loved.
Through these activities, she said she developed dignity, honour and a keen sense of self-awareness.
In her early teens, the symptoms of her disease started manifesting, though she and her family were unaware of it.
She said she continued to lead an active life even as her body began giving in.
At 14 years old, she took her Grade 5 ballet examinations even as her spine was collapsing.
"I fell down very dramatically while doing a pirouette," Foong recalled, adding that she received a high commendation despite that.
She also continued participating in figure skating competitions, squash tournaments and choir performances, even as she lost both her hearing and her balance.
"I wanted to live the best I could," she replied, especially after her aunt died of terminal cancer in 2001.
It was in 2009 when Foong, at 16, was finally diagnosed with NF2.
It was then she learned her deformed left eye was not deformed after all, it had simply been pushed upwards by a tumour in her face.
What she did after her diagnosis was widely reported. She started a campaign called 'Heart4Hope' where she sold T-shirts to fund her own surgeries in the US.
That same year she wrote an autobiography entitled 'I'm Not Sick, Just a Bit Unwell', with all proceeds from the book going towards raising funds for her surgeries.
She started speaking at universities and events about her experiences living with NF2, and began keeping a blog where she discusses her life up to this day.
'Forgiveness is not easy'
In January 2016, Foong underwent two brain surgeries as well as a surgery to install a feeding tube into her body at the US National Institute of Health (NIH) in Maryland.
One week after her surgeries, her eyes dried up and she lost her eyesight, she said.
"The doctors in the ward neglected to give me eye care. During the surgery, the facial nerve was irritated and this impaired tear production," she explained.
Foong's face showed no trace of contempt or anger while relating the story.
She shifted her bony shoulders, tilted her head down and brought her right hand to her chin.
"I was upset, but I have been working on forgiveness. Forgiveness is not easy.
"When I am relaxed I can forgive but when I have difficulty doing things, the frustration surfaces, then I will need to work on forgiveness again."
There is a silver lining in this, she said.
"Before my vision was damaged, it was very difficult for me to live slow (as) I am used to living fast.
"Now it is an opportunity for me to slow down," she mused.
We had been talking for over an hour by this point in the interview and Foong sounded like she was running out of breath.
We paused the interview to take photographs of her and her childhood pictures.
Foong needed help adjusting her face to look at the camera and joked about needing Photoshop because she was not wearing any make-up.
Foundation her life mission
She returned to Malaysia in February 2016 after recuperating from her surgeries in the US.
With Hui Li's help, she got started on her second autobiography about her life as a young adult.
She also began building Works of Gratitude, a charitable foundation that aims to assist NF2 patients worldwide in getting treatment in the US so they have a better chance of survival.
"The foundation is a big goal, it is now my life mission.
"Even after I came back from surgery with damaged vision, I still had to continue," Foong almost ran out of breath as she raced through her words.
I tapped her shoulder to assure her we could slow down the conversation but she was determined to continue.
The active lifestyle she had as an adolescent had made her accustomed to keeping herself busy.
"It has already been programmed in me," she said.
She first tried starting the foundation in Malaysia but struggled to land sponsors, especially when the economy slowed down in the middle of last year. She then realised she could start it in the US.
"All the doctors who can help us survive are there (the US), so I decided to work with doctors in the US instead.
"Once I changed (the direction of) my goal, things started to grow and doors started opening," Foong said, beaming.
One doctor she is partnering with is Dr Rick A Friedman, whom she has known for 12 years.
Friedman is the division director of skull-based surgery at the Keck School of Medicine of the University of Southern California.
Works of gratitude
Through the foundation, patients will have access to a fixed price package of US$80,000 (RM340,000) per brain surgery rather than be billed for each procedure they undergo, and the foundation will subsidise all hospital charges, an estimated 65 percent of the total bill, Foong explained.
She believes sponsors will come forward once she reveals her foundation's plans and strategies. She also believes her foundation will benefit patients from all over the world.
"In many parts of the world NF2 patients became paralysed and perish after just two or three surgeries.
"This foundation aims to change many people's fates… In many countries, people would not even speak about the mortal truth of NF2," Foong wrote on her blog.
She does not want other NF2 patients to rely on her or on her foundation but rather she hopes to empower them to make decisions to extend their own lives.
"I want to guide others to help themselves," she said, adding that she hopes to launch Works of Gratitude this June.
So what is daily life like for you, I wrote on her palm.
"Now that I can't see, I can't do much except eat, sleep and take care of myself. I can't write or use a computer or use a phone. I need to speak slowly," she said.
Foong sipped on some water.
"But since I already have this condition, I might as well do something good with it. I might as well help people."
Feeling inspired? Share Yvonne's story