Just the Chettinad Dining Experience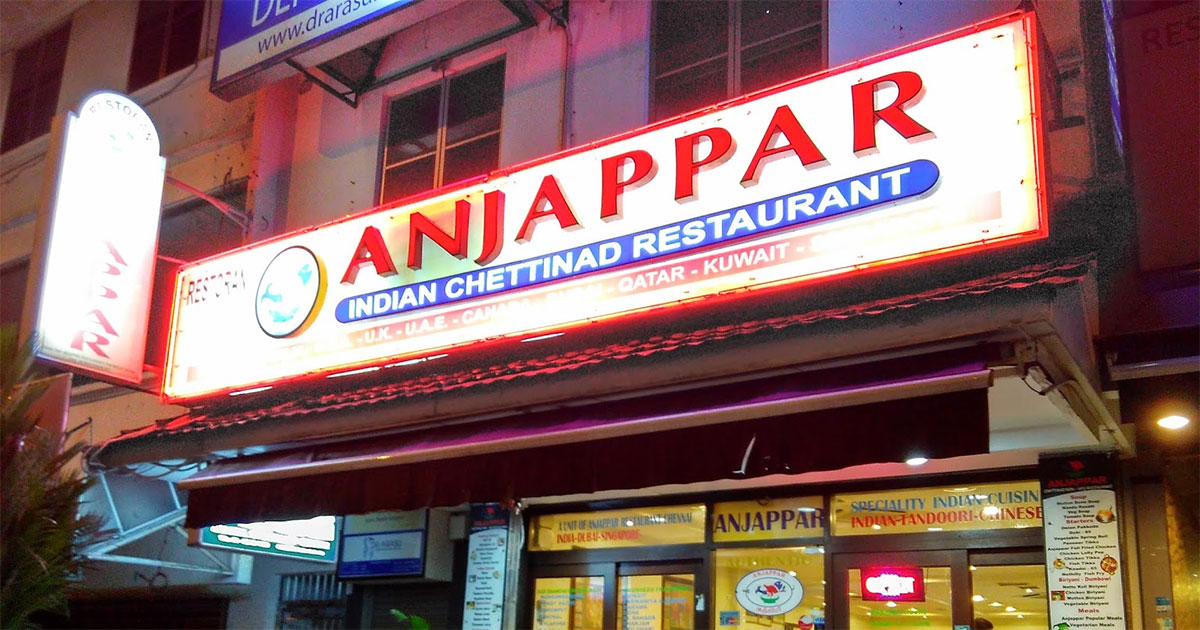 For the uninitiated, the Chettiars are famous not only as money lenders; they do have their well-known cuisines that give a truly Chettinad dining experience.
Most of us may think that Indian restaurants are all the same, but like the Chinese, we our Cantonese-style, Hakka-style, Hailam-style, Foo-Chow style, and Malay restaurants, we have cuisines ala Minangkabau, ala Kelantan, ala Terengganu and so on. The Indian cuisines are also varied based on their geographical origins.
There is the Kerala-style, Hyderabad-style, and in Malaysia, to taste the Chettinad cuisines, Anjappar Restaurant is the right place to visit.
The first Anjappar restaurant was started by its patriarch, Anjappar in Chennai in 1964.
Today, with over 70 outlets around the world, Anjappar prides itself as a pioneer in popularising the Chettinad cuisines. In fact, for most Chettiars in Chennai, the name Anjappar is synonymous with the Chettinad cuisines.
I must admit that although I have been a fan of Indian and Mamak food, I have not really been able to differentiate the different style of cooking until I did the food tasting at Anjappar.
Here, one should start with the somewhat spicy Crab or Nandu Rasam (RM9.00), which is a great appetizer to begin the meal with.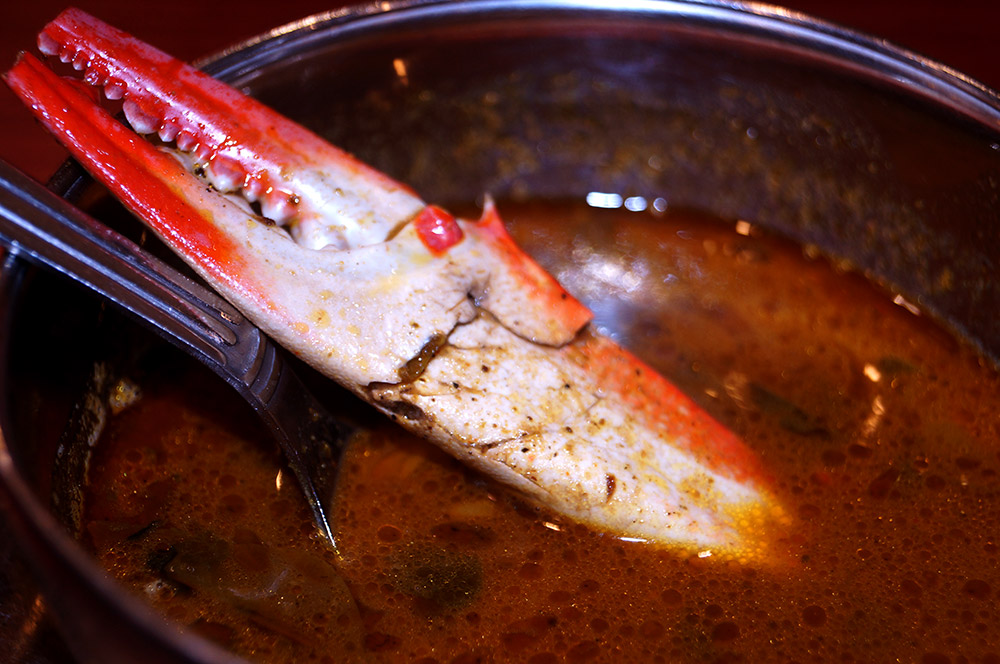 According to one of the invited guests, Dr Tapash Rudra from Calcutta, the rasam is good for
"any kind of mental stress as it is able to relieve oxidative stress."
For starters, they have both Gobi 65 and Onion Pakoda. Onion Pakoda (RM9.50) or some call it Onion Bhaje is also an Indian snack used as a starter for most Indian meals. Gobi 65 is basically cauliflower (or 'sayur kobis') deep fried using the same ingredients used for Prawn 65 (RM24) which is one of their signature dishes.
I asked the restaurant founder's son, Kandawamy Anjapparwhy the reason why the number 65. "It's a secret recipe that my father came up with," he said.
"He did not know what to call it, so he just called it 65 as it was also the number 65 dish that he had created. Since then, he has used the secret recipe not only for the prawns, but for other dishes as well."
Since I am a fan of Kebab from the moment I tasted my first Souvlaki as a student in Melbourne thirty years ago, Anjappar's Chicken Garlic Kebab (RM20) definitely attracted me. Although it is done differently, the kebab tastes good.
Their chicken dishes can come in different cooking styles as Ginger Chicken Dry (RM17.00), Chicken Manchurian Dry (RM17.00) and Special Chicken Dish (RM19.00).
For those who love Masala, their Fish Masala (RM18.00) is best eaten along with white rice, but I find that it also goes well with the naan. Individual guests who visit the restaurant can also do with just their briyani rice served with either chicken or mutton. On its own, the briyani rice can be really a heavy lunch.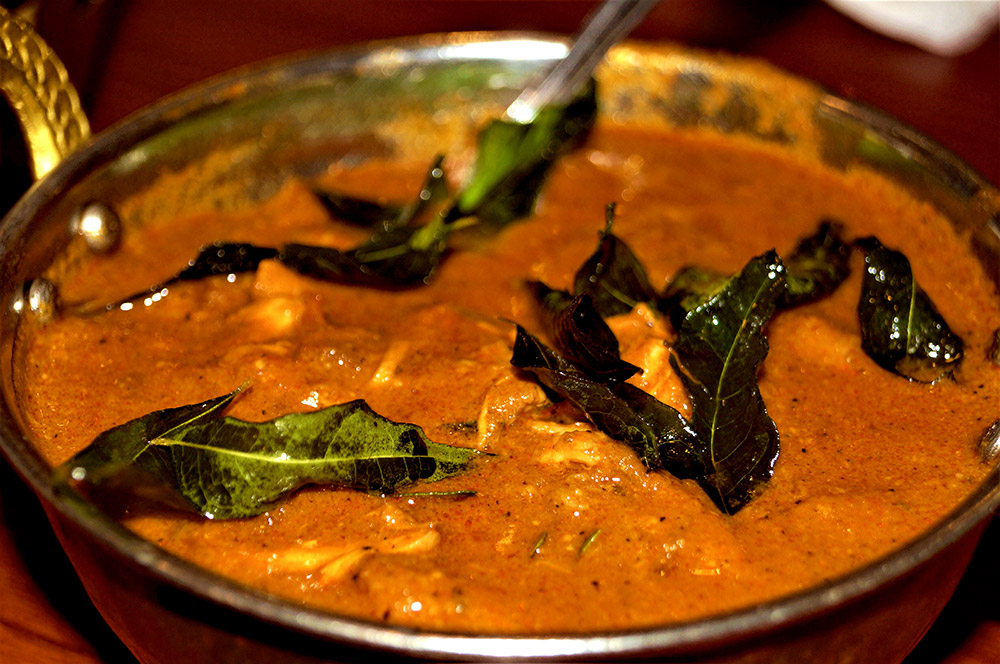 As this has been a family restaurant for over half a century, Anjappar also has dishes that cater to the taste buds of children. For the children, I would recommend their Chicken Lollipop (RM17.00) and Fish fingers (RM22.00).
Overall, it is a good dining experience for those who have never tasted the Chettinad cuisines.
Anjappar Restaurants in Malaysia are located at three different places:
Address: G56, Jalan Maarof, Bangsar, Kuala Lumpur.
Tel: +6(0)3 2288 1508/+6(0)3 2288 1509
Business hours: 8AM-11PM

Address: No.35, Jalan 14/20, Seksyen 14, 46100 Petaling Jaya, Selangor, Malaysia
Tel: +603 7932 1508
Business hours: 9AM – 11:30PM

Address: 136, Jalan Tun Sambanthan, Brickfields, 50470 Kuala Lumpur, Wilayah Persekutuan Kuala Lumpur.
Tel: +603 2273 3812
Business hours: 9AM – 11PM
STEPHEN NG is an ordinary citizen with an avid interest in all sorts of gastronomical delights – Western, Middle Eastern and Asian.