Asia Pacific University of Technology & Innovation (APU) unveiled the new iconic campus in 2017 that is strategically located in Technology Park Malaysia (TPM), Bukit Jalil. APU is a top-notch University recognised as a Premier Digital University by MDEC and was rated 5-Stars at the SETARA 2017 Ratings by Ministry of Higher Education.
APU's Campus blends technology, integration, innovation and creativity under one roof. Designed by award-winning consultants and architects, APU's new iconic campus provides not just a university learning environment, but also a lively community spot for our students to formulate new ideas, gain intellectual growth and discover new adventures.
Technology Park Malaysia (TPM), Bukit Jalil – A Location with Ultimate Connectivity and Accessibility
Strategically located within TPM, Bukit Jalil, the APU's new iconic campus provides high accessibility through major highways from Puchong, Subang, Petaling Jaya and the heart of Kuala Lumpur. Apart from providing ample parking spaces on-campus for students and staff, the campus is surrounded by a wide array of public transportation, such as the Bukit Jalil LRT station and Terminal Bas Selatan @ Bandar Tasik Selatan. TPM, the technology park that also houses Astro, Mimos, Jaring and other various technological companies, is the ideal location for this contemporary campus, due to its strong positioning as Malaysia's primary hub for leading-edge and high-tech developments in a wide variety of areas.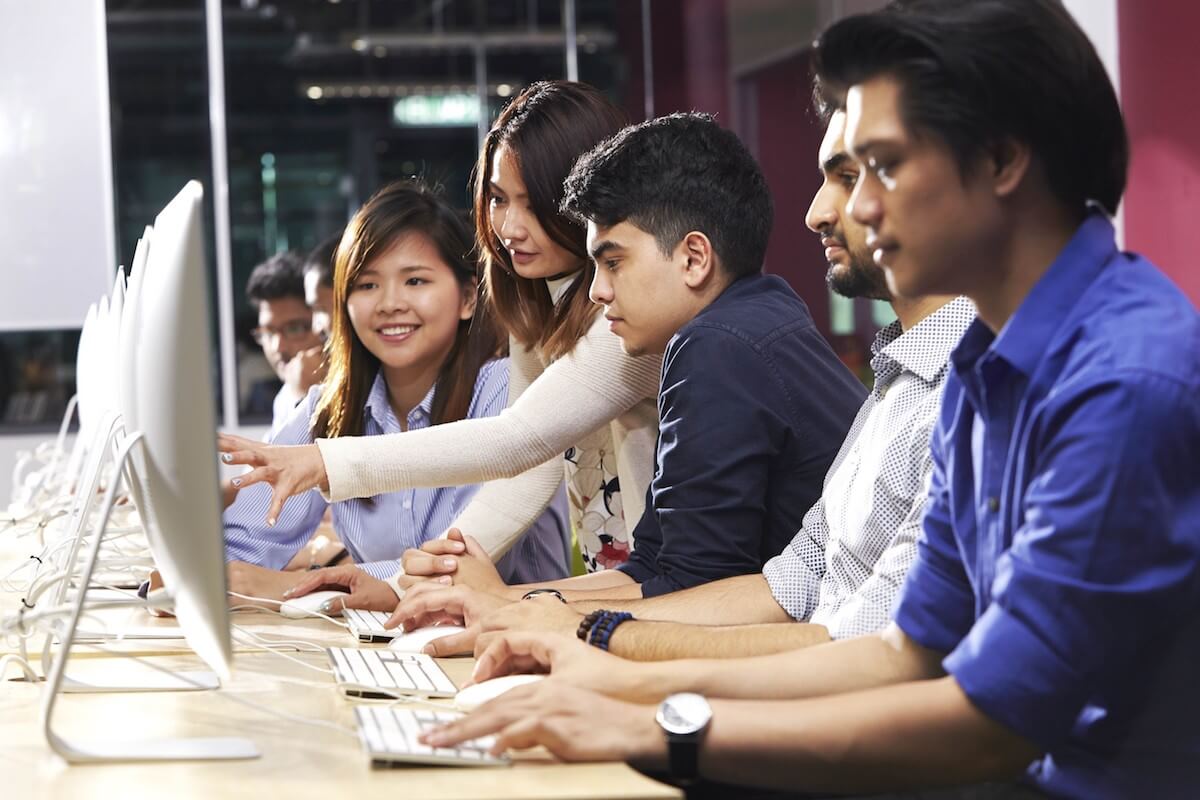 Well-trained academics at APU offer intensive knowledge sharing sessions in class, by making use of the highly-reliable educational technology within the APU's New Iconic Campus.
Dynamic Environment Where Aspiring Young Minds Assemble
Being a university student can be one's most exciting expeditions, where dreams are realized and the future is envisioned. The expedition starts at The Spine – a distinctive and unique feature that stretches from the main entrance all the way to the far end of the campus. While providing seamless connectivity to all areas within the campus, The Spine also aims to establish a community aspect for the university – where integration is the key. Covered walkways that extends from the Spine further promotes connectivity and cultivates exchange of ideas among students from different disciplines and academics, through the series of 'intelligent' teaching, learning, research, and social spaces spanning from the Spine. Within the Spine, a vibrant array of academic, leisure and social activities take place on a daily basis; it is not only the heart of the campus but also the nurturing ground for world-changing global ideas. APU's Centre Point, which located at the center of the Spine serves as a melting pot of cultures from all over the world, where cultural activities are organized regularly at the campus, fostering long-lasting intercultural relationships among APU students, who come from over 110 countries.
Through a stylish blend of functionality & accessibility, APU's new iconic campus sets a new benchmark for design excellence among Malaysian Universities. Highlighting the importance of transparency, the campus makes extensive use of glass to limit physical barriers between people. Teaching and learning facilities are redesigned to suit the needs of the industry, in line with the Industrial Revolution 4.0, a strong emphasis on cooperative learning is reflected at APU's new iconic campus, through the abundance of communal spaces and discussion areas, where aspiring young minds come together to formulate innovative ideas. Wings spreading out from the Spine offer creative spaces intended to foster self-directed learning and teaching. Highly conducive teaching & learning spaces, study lounges, studios, laboratories, tutorial rooms, breakout rooms and syndicate rooms sit alongside modern, fully equipped lecture theatres where core knowledge is taught by well qualified academics. All spaces are carefully designed to create an unforgettable learning and lifestyle experience that lasts for a lifetime, while enabling professional learning and cultivating global mindsets.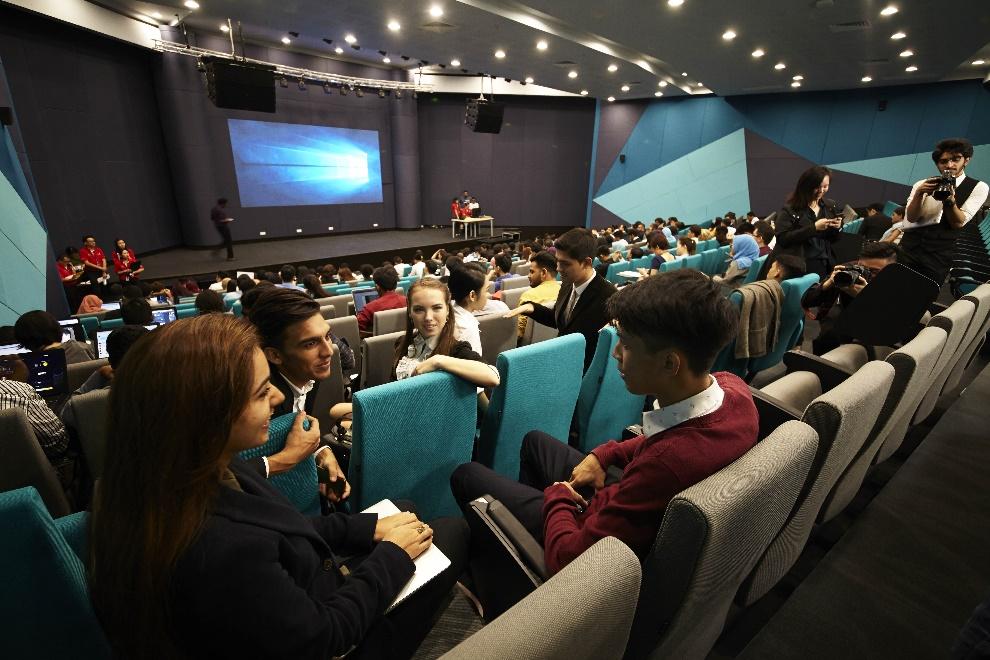 State-of-the-art lecture halls and classrooms provides a comfortable and sophisticated learning experience to students during lecture and tutorial sessions.
The Library – A Contemporary Learning Space
The APU Library sits as a core of the Knowledge Commons, providing an intelligent space for exceptional learning experiences. Apart from the wide array of book selections, e-books, e-journals and other resources, the library also positions itself as a popular spot for interactive discussions and creative brainstorming sessions, in line with our teaching strategy that encourages open, multidisciplinary approaches. The contemporary two-floor library features an abundant array of discussion rooms that are well-equipped with LCD TVs, providing the facilities for students to gear up for their professional presentations, debates and group assessments. At another corner, the Bean Bag zone provides maximum comfort to students who wish to create and share knowledge in a casual yet aspiring way. A soundproof Quiet Zone is designed exclusively for students who prefer a quiet and cozy study environment for their upcoming exams and assessments.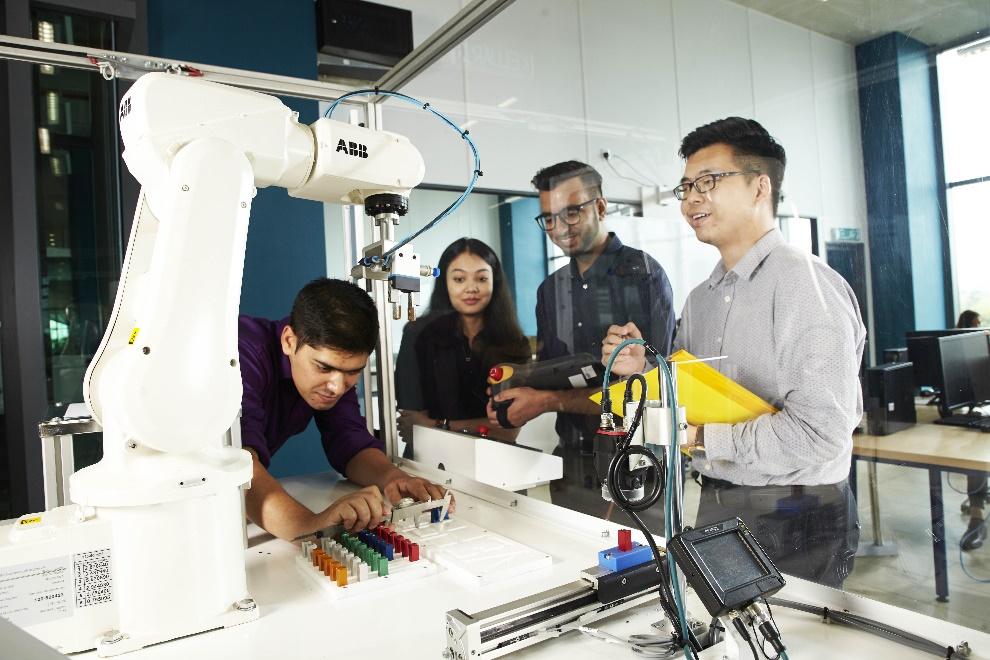 By incorporating cutting-edge technologies, APU students will be able to keep up with the latest technological trends and equip themselves with necessary skills to be a highly-employable graduate.
Cutting-Edge Technologies
At APU, we aspire to ensure success in our students' future careers, granting them ability to combat the global challenges that lie ahead. The campus is a unique fusion of technology, innovation and creativity, to reflect our identity as Malaysia's leading technological university. Apart from being a vibrant campus, APU's new iconic campus is also established as a smart campus, where reliable high-speed wireless internet access and cashless payment systems combine to create a whole new level of campus lifestyle experience.
APU's graduates are self-starting, innovative problem solvers with skills attuned to their particular professions. They are capable, enterprising and entrepreneurial, and hence highly employable. Our educational technology environment supports the development of graduates of this calibre, in which well-equipped computing and engineering laboratories with advanced software, hardware and technologies place students at the forefront of technological excellence. By applying the latest technology and design, the campus supports a vibrant community of scholars, who will eventually become highly-employable working professionals, and commit to engaged, reflective learning and research in a connected, interactive environment.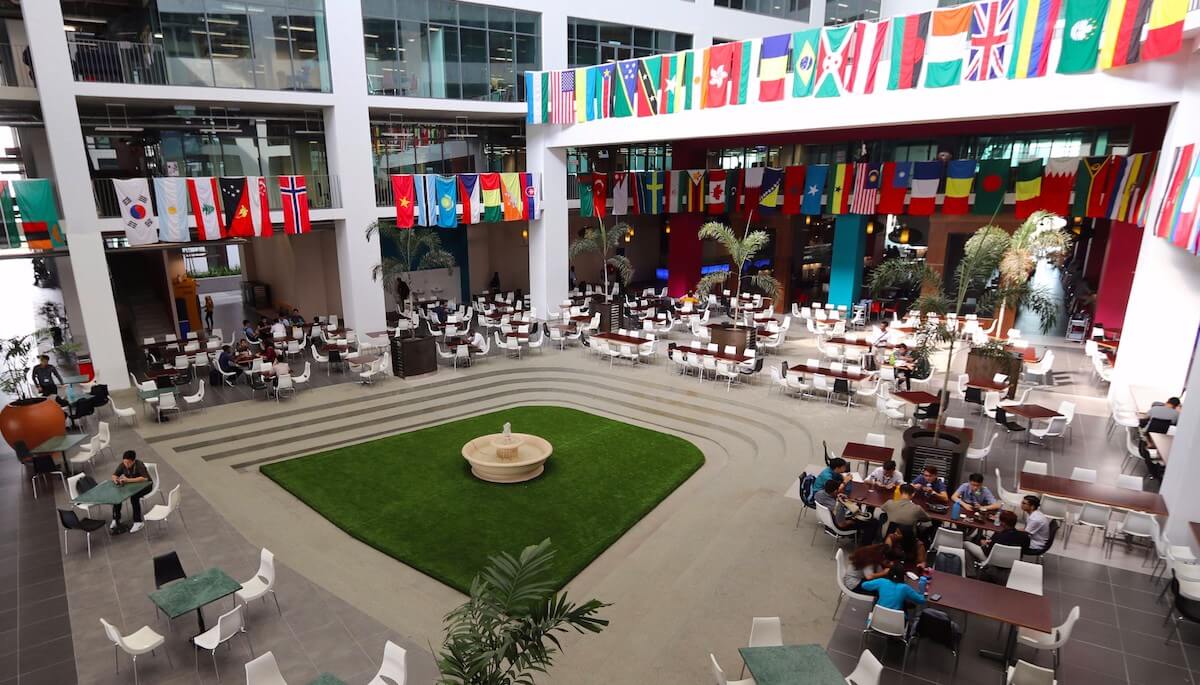 The Atrium, located at the center of the campus, serves as a melting pot of cultures from over 110 countries at APU.
Comfort Away From Home –
On-Campus Accommodation
Studying away from home is an experience of a lifetime. At APU's new iconic campus, the experience is made an unforgettable one, as the on-campus accommodation aspires to amalgamate comfort and security at the same time. Built within the campus grounds, all dormitories have en-suite facilities, where students are accorded maximum comfort and privacy. The residential blocks can be independently accessed from the main university teaching zones, providing ultimate accessibility and convenience to its tenants. In addition, a fitness sweatzone and student lounge provide spaces for relaxation and socialization throughout the day.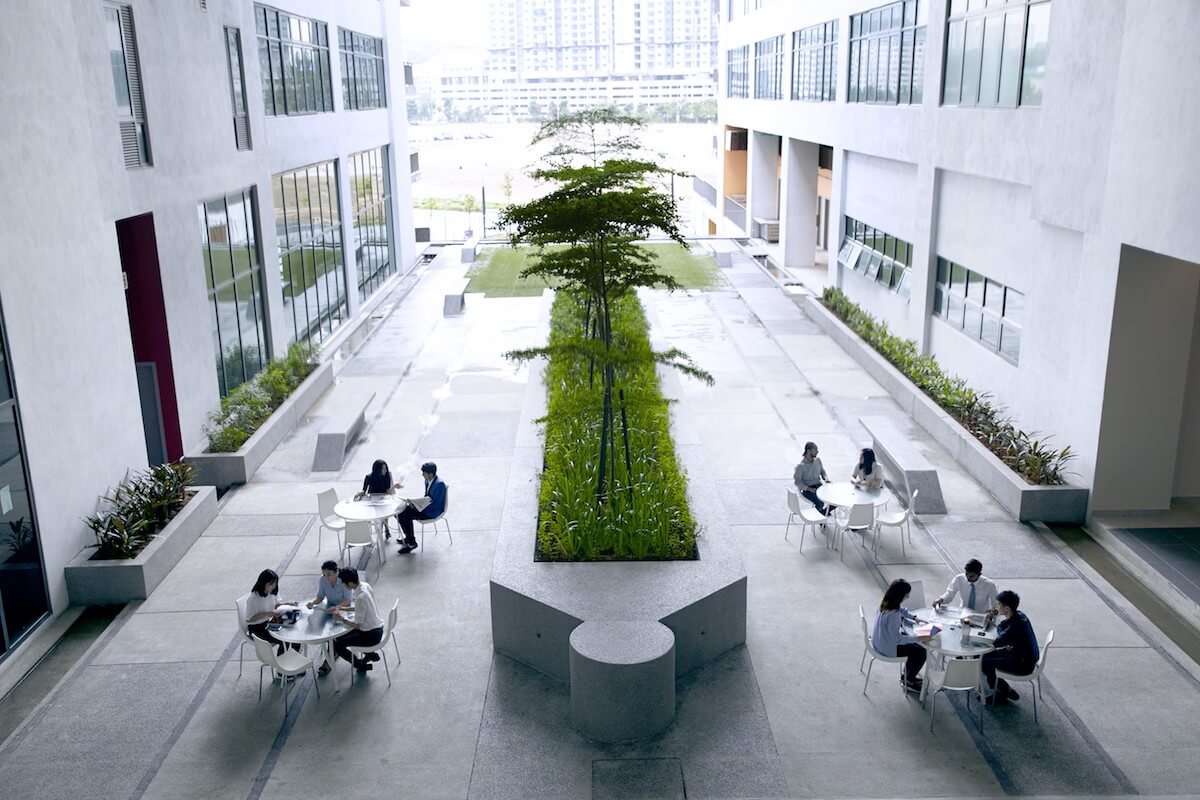 APU's New Iconic Campus features an abundant array of communal spaces, in line with our teaching strategy that promotes interaction and active sharing of knowledge.

The APU's New Iconic Campus is a campus made ready for the world, to nurture professional graduates who are career-ready upon graduation. To date, the global campus houses 11,000 students who came from 110 countries. For more information, please visit our website www.apu.edu.my, email [email protected], or contact student services at +603 8996 1000 or hotline 1 300 888 278. To be connected, join us on APU Facebook at www.facebook.com/apuniversity.