FREE BOOK!
FOR MALAYSIAKINI
3-YEAR SUBSCRIBERS @RM450
PROMO PERIOD: SEPTEMBER 2019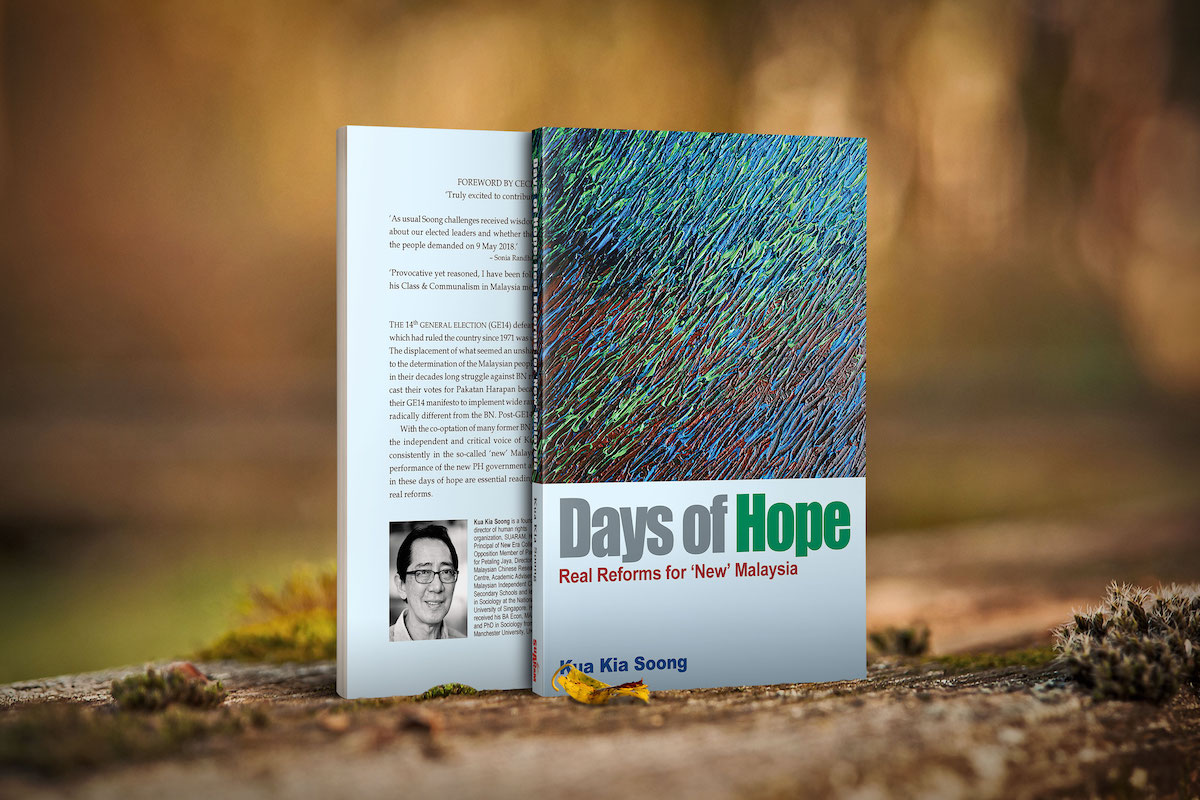 The 14th General Election (GE14) defeat of the Barisan Nasional Coalition, which had ruled the country since 1971 was unprecedented in Malaysian history. The displacement of what seemed an unshakeable BN led regime, is testimony to the determination of the Malaysian people and the persistence of civil society in their decades long struggle against BN rule. The Malaysian people chose to cast their votes for Pakatan Harapan because the coalition had promised in their GE14 manifesto to implement wide ranging reforms that made them seem radically different from the BN. Post-GE14 are days of hope indeed…
With the co-optation of many former BN critics into the new PH government, the independent and critical voice of Kua Kia Soong continues to sound consistently in the so-called 'new' Malaysia. He has closely monitored the performance of the new PH government and his analyses and commentaries in these days of hope are essential reading for all Malaysians who yearn for real reforms.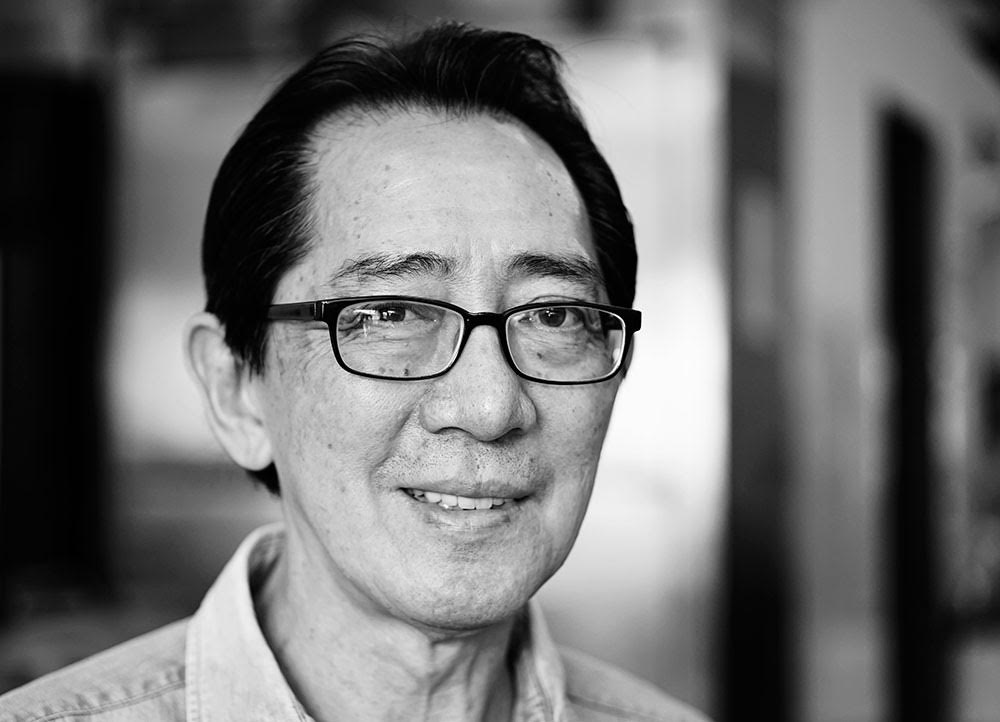 Dr. Kua Kia Soong is a director of SUARAM. He was arrested under the Internal Security Act during "Operation Lalang" in 1987 and detained for 445 days without trial. Upon his release in 1989, he helped to found SUARAM (Suara Rakyat Malaysia), the leading human rights organization in Malaysia.
Together with other civil rights activists, he joined the Opposition Front in 1990 and was elected Opposition Member of Parliament for Petaling Jaya from 1990 to 1995. He was prisoner of conscience for a second time in 1996 when he spent seven days in prison with other activists for organizing the Second Asia Pacific Conference on East Timor which was disrupted by a mob from the ruling coalition.
He was the Principle of the New Era College, a non-profit tertiary-level institution run by the Chinese education movement (2000-2008); Director of Huazi Research Center set up by the Malaysian Chinese community (1985-90) and Academic Adviser to the Independent Chinese Secondary Schools (1983-85).
Kua received his BA Econ (1975), MA Econ (1976) and PhD in Sociology (1981) from Manchester University, UK. He was a lecturer in sociology at the National University of Singapore in 1978-79.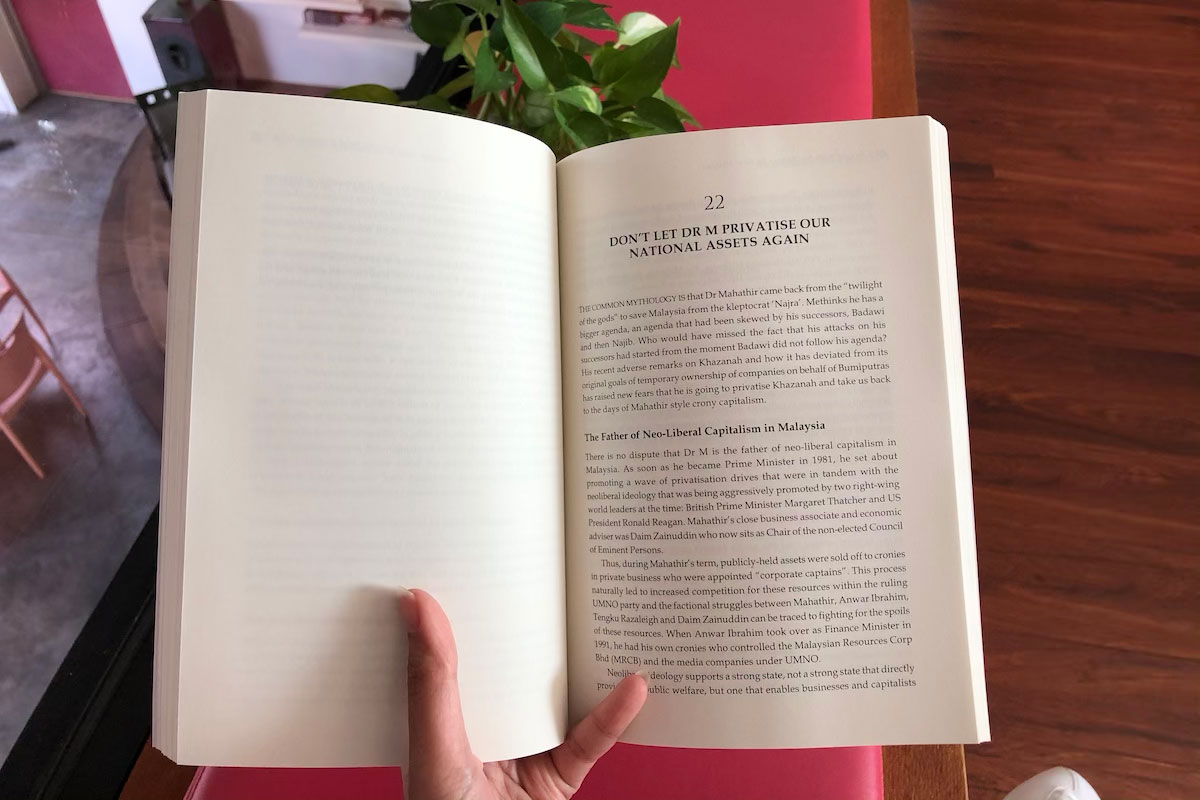 HUMAN RIGHTS FOR A 'NEW' MALAYSIA
KEEP THE CONSTITUTION SECULAR AND INCLUSIVE
RULE OF LAW IS NOT ARBITRARY RULE
RULE OF LAW MUST APPLY TO ALL FINANCIAL SCANDALS
EXORCISING RACISM FROM OUR INSTITUTIONS
WE DON'T NEED BITTERLY TOXIC & NOXIOUS BTN
RACIAL AND RELIGIOUS HATRED ACT IS ILL-CONCEIVED
WHO ARE THE PERPETRATORS OF FAKE NEWS?
FREEDOM OF EXPRESSION IN 'NEW' MALAYSIA
DELAYING LOCAL GOVERNMENT ELECTIONS IS UNACCEPTABLE
ABOLISH DEATH PENALTY & EXTRADITE SIRUL
SELECTIVE EFFICIENCY OF THE MALAYSIAN POLICE
CONSTITUENCY DELINEATION: 60 YEARS OF SUBTERFUGE
LGE CORRUPTION CHARGES: BEST LET THE COURT DECIDE
CEP REPORT, OSA – CIVIL SOCIETY DEMANDS FULL TRANSPARENCY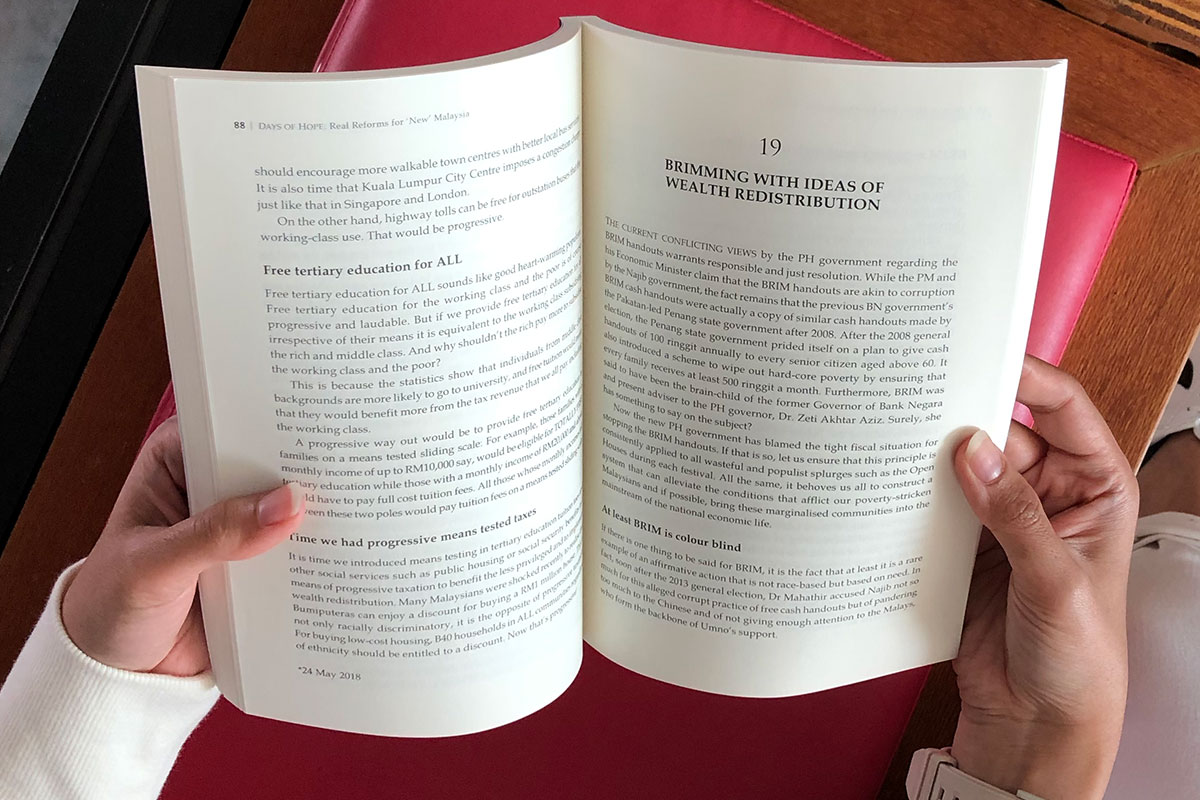 Economic, Social & Cultural Rights
BUMIPUTERA CONGRESS BURSTS 'NEW MALAYSIA' BUBBLE
BUMIPUTERAISM THE MAIN CAUSE OF THE BRAIN DRAIN
POPULIST POLICIES THAT ARE NOT PROGRESSIVE
BRIMMING WITH IDEAS OF WEALTH REDISTRIBUTION
A HIGH-INCOME COUNTRY WITH RM1050 MINIMUM WAGE?
HAS FORBES 50 DONATED TO 'SAVE MALAYSIA FUND'?
DON'T LET DR M PRIVATISE OUR NATIONAL ASSETS AGAIN
TIME FOR PAKATAN TO ADDRESS INSTITUTIONALISED KLEPTOCRACY
CONFLICT OF INTEREST HAVING CORPORATE HEADS AS STATE ADVISERS
YES TO ROYAL COMMISSIONS ON 1MDB, BMF AND FOREX LOSSES
RECLAIM OUR COMMONS & REDISTRIBUTE WEALTH
SACRIFICING CHINESE SCHOOLS AT THE ALTAR OF THE DEBT MOUNTAIN
DISHONEST TO RENEGE ON UEC RECOGNITION
UEC: AN UTTERLY EGREGIOUS CONVERSATION
FAIR AND FARSIGHTED EDUCATION POLICY
MAT SABU'S DEFENCE PRIORITIES
RESTORE SARAWAKIANS' RIGHTS TO THEIR OIL
NEW MALAYSIA A HAVEN FOR PLASTIC WASTE?
MIGRANT LIVES MATTER
ANWAR NEEDS TO SHOW US HIS REFORM PLAN

Miscellaneous Issues

TIME FOR ELDERLY POLITICIANS TO MAKE WAY FOR THE YOUNG
PRIME MINISTER'S BIZARRE APPOINTMENTS
RAZAK BAGINDA'S INDICTMENT CALLS FOR NEW FULL INQUIRY
PATRIOTS & PRETENDERS OF THE EMERGENCY
THE MISOGYNISTIC ANTI-UNDIROSAK PACK
THANK GOODNESS FOR DAUGHTERS!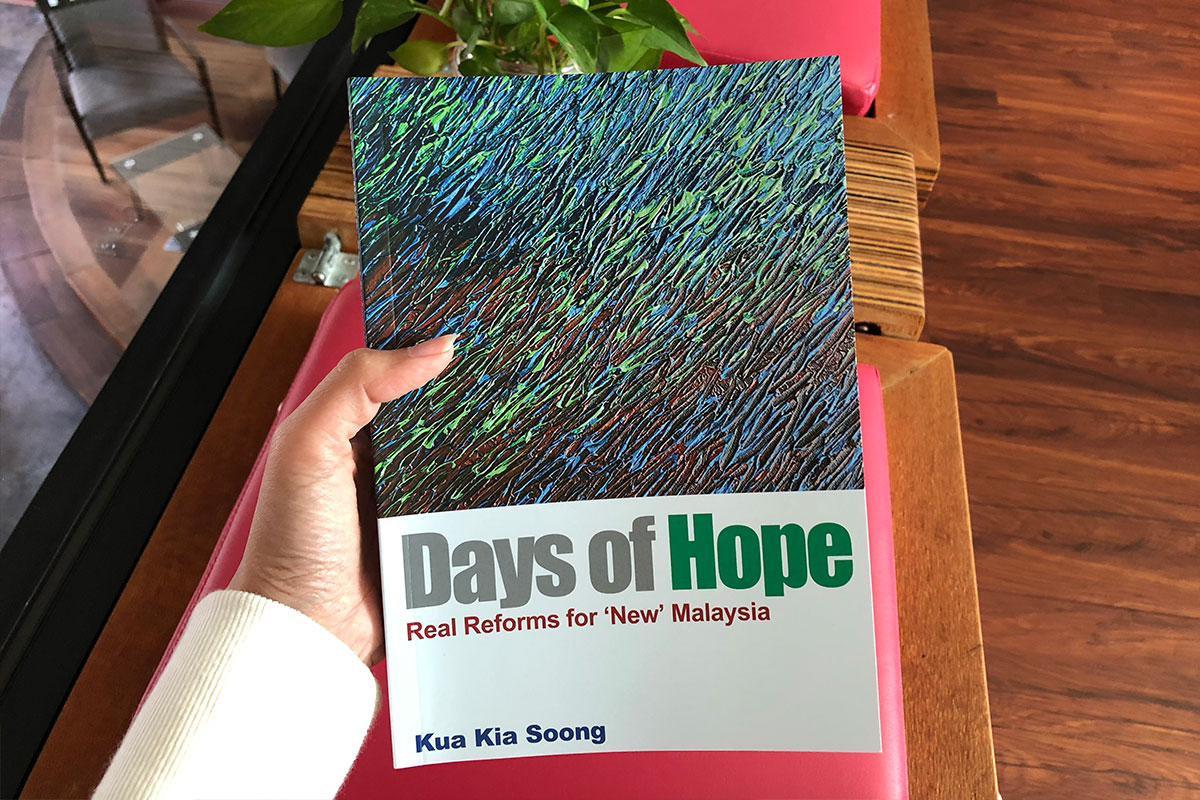 Truly excited to contribute to Days of Hope.
As usual Soong challenges received wisdom, here asking us probing questions about our elected leaders and whether they are helping to create the society the people demanded on 9 May 2018.
Provocative yet reasoned, I have been following Kia Soong since I first read his Class & Communalism in Malaysia more than thirty years ago.
FREE BOOK!
FOR MALAYSIAKINI
3-YEAR SUBSCRIBERS @RM450
PROMO PERIOD: SEPTEMBER 2019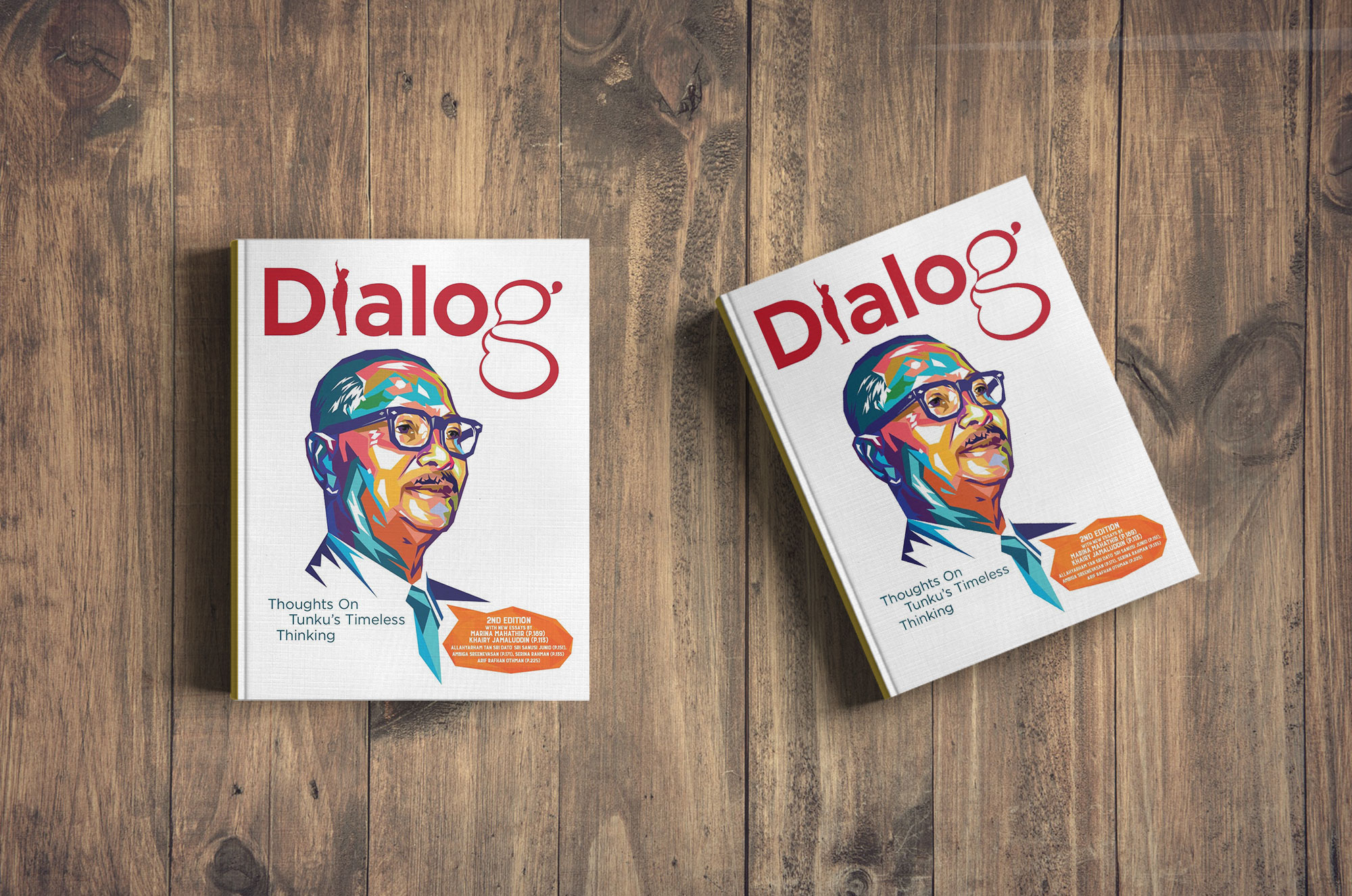 RELATED
Dialog
– Free Book giveaway