No set. No director. A story open to the public and completed by the audience.
A story machine to create new stories every night. Come join us and help us fill in the Blanks.
Iranian playwright Nassim Soleimanpour made a name for himself with his play White Rabbit, Red Rabbit, which has been performed by actors such as Whoopi Goldberg, Alan Cumming, and John Hurt. In 2016 The Instant Café Theatre Company staged it in Malaysia in 3 languages using actors such as Sharifah Amani, Kuah Jenhan, Iedil Putra, Ghafir Akbar, and Ling Tang.
BLANK — performance curated in Kuala Lumpur by JO KUKATHAS with different performers every night. Every night a different performer is the storyteller and a member of the audience becomes the character, deciding what they want to tell us of their life. The performer will also read from a script he or she has never seen — let alone rehearsed. Some words in that script are, as the title of the play suggests, left blank for the actor and the audience to fill in. And so a new story is created collaboratively and immediately in the theatre every night.
ABOUT THE PLAYWRIGHT
NASSIM SOLEIMANPOUR is an independent multidisciplinary theatre-maker from Tehran, Iran. His plays have been translated into 20 languages. Best known for his play White Rabbit Red Rabbit, written to travel the world when he couldn't, his work has been awarded the Dublin Fringe Festival Best New Performance, Summerworks Outstanding New Performance Text Award and The Arches Brick Award (Edinburgh Fringe) as well as picking up nominations for a Total Theatre and Brighton Fringe Pick of Edinburgh Award.
MEDIA REVIEW
"Blank offers a more intimate, touching, and compassionate platform for the participant to consider their own mortality."
(Elliot Roberts, The List, Edinburgh)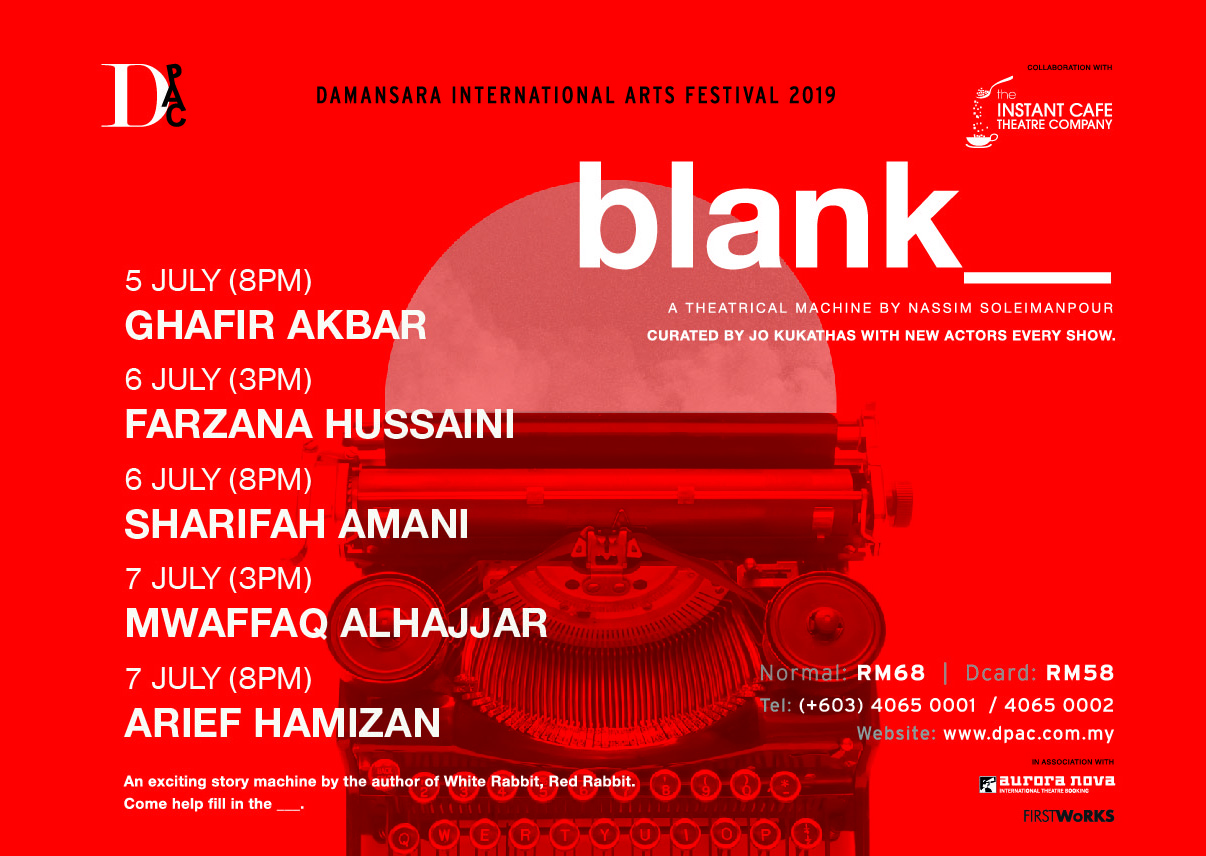 Genre:
Theatre
Venue:
H-01, DPAC, Empire Damansara,
Jalan PJU 8/8, Damansara Perdana,
47820 Petaling Jaya,
Selangor.
Ticket Information:
Book them here.
RM68.00 (Normal)
RM58.00 (Dcard)
– Damansara Performing Arts Centre