Coway Run on 7th May was a tremendous success!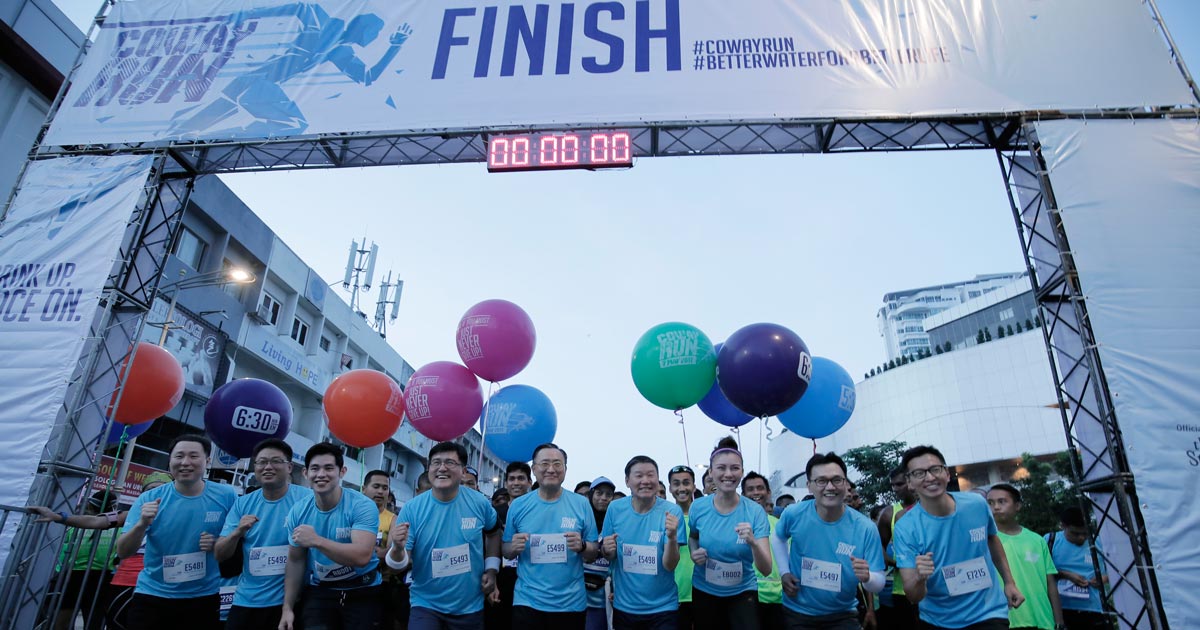 Community runs are becoming a large part of growing cities. In Malaysia, Coway – The Water Specialist™ is a huge advocate of the benefits of running. This year, Coway Run was held on 7th May and attracted more than 4000 members of the public. The event was a tremendous success.
Coway Run is a running event that includes any type of runner with open and veteran categories for men and women. It was participated by many, not necessarily athletes. Among the crowd, were a couple of key leaders, Jordan Yeoh and Carey Ng. Jordan Yeoh is a bodybuilder and has built a reputation as a fitness coach, a model and participated in dance competitions overseas as well. Carey Ng is best known for her status as former Miss Universe Malaysia and now actively participate in the pageant as a mentor and director. Both of them represent the different areas to benefit from physical fitness and joining the Coway Run was evident that they could run too!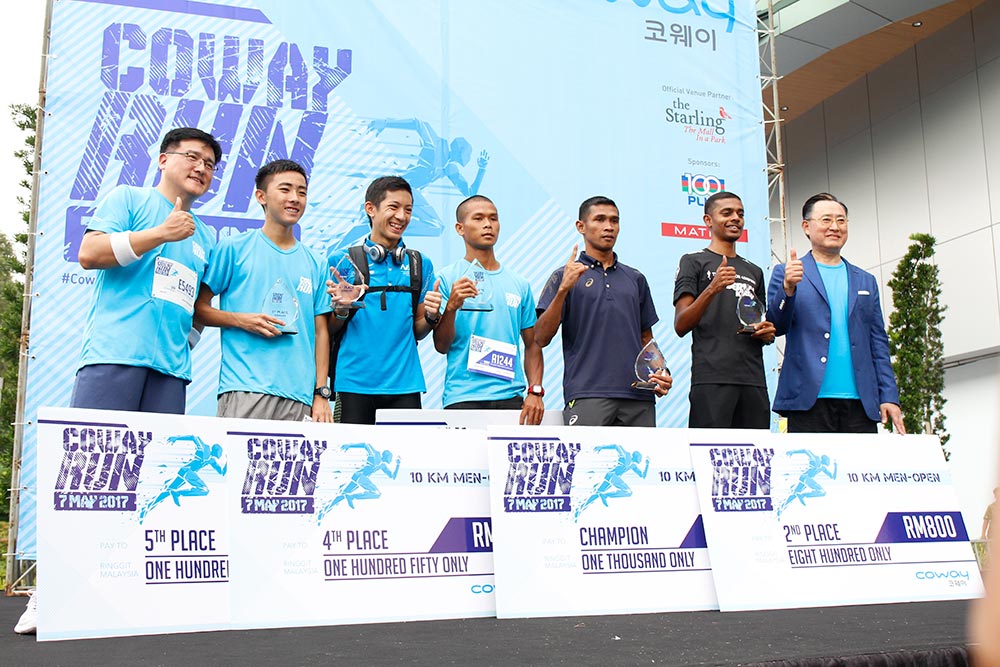 Winners of Coway Run 10km Men Open (Left) Managing Director of Coway Malaysia Kyle Choi (Right) Coway CEO Harri Lee
For the rest of the runners, the appearance of both of these public figures serves as an inspiration to push the boundaries to stay healthy and fit. Some runners loved the experience of simply sharing the breezing wind while marching forward. It creates a warm, harmonious atmosphere that will leave you smiling and forget all the fatigueness. Behind the run, Coway Runners spread health awareness and directly promote running as an essential way to stay fit. Coway aims to continue this event in the coming years based on the large positive feedback received.
As the Water Specialist™, Coway has been frontlining to create awareness of drinking clean water as a part of a healthy lifestyle. Water, which constitutes the majority of our body, can directly affect your daily life. Drinking cleaner and purified water increases metabolism and energy levels, as well as to improve skin conditions. Water that comes to your household are not necessarily free of impurities and pollutants, but merely at an "acceptable" rate.
Many argue that at this rate, there is not telling if the water is safe for drinking. The only way to ensure your drinking water is clean and pure is to purify it. As an expert in this field, Coway knows this. They have been actively developing better technology to improve the quality of drinking water in their lab in South Korea, which is also the largest R&D centre in the world. This is no easy feat. Each water purifier undergoes 1 million tests!
The stigma that water purifiers are expensive is a myth of the past, since Coway offers a very reasonable RM70 monthly rental fee, which includes once every two months maintenance, and is the most frequent service in the market to ensure the quality of water you are drinking is always at its best condition. It is no longer a novelty to purify your water, and 6 million homes have been using their purifiers. No wonder Coway Water Purifier is the number 1 water purifier brand in Malaysia and Korea.
Be the change you want to be, and prepare yourself for the next Coway Run by drinking cleaner water everyday!