Love . Hope . Health Campaign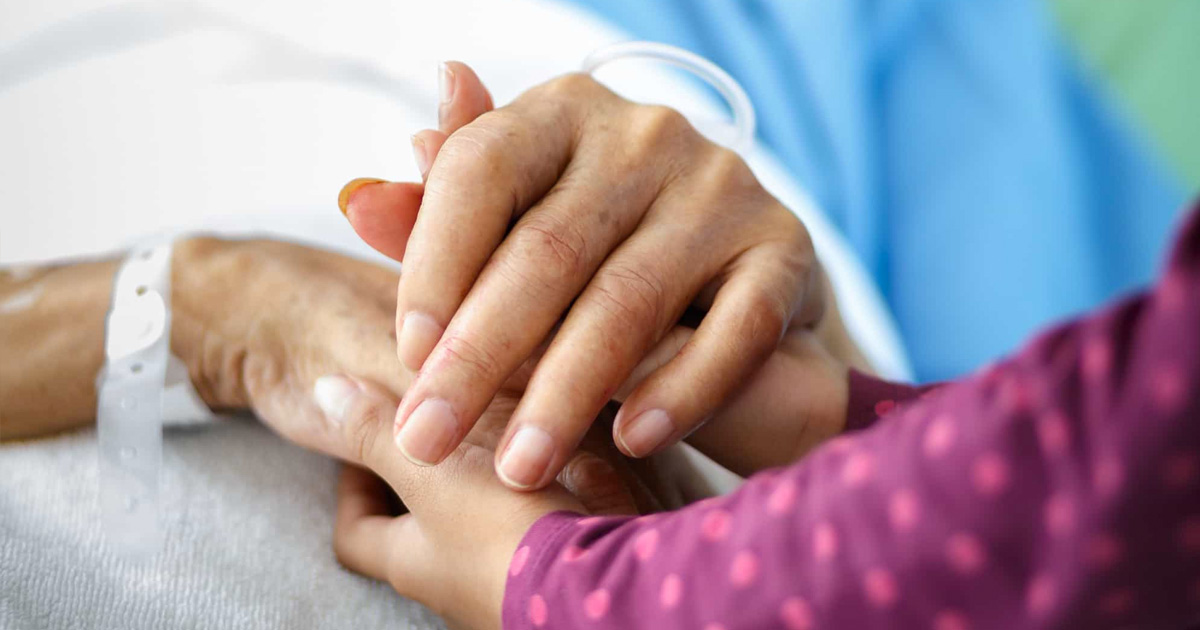 Founded in July 2017, Compassionate Care Foundation is a non-governmental and charitable organization that promotes the health and well-being of individuals with limited financial resources through innovative green solutions.
Compassionate Care Berhad, through the support of its core partner, IRCare Sdn Bhd, brings the benefits of Hi-Bliss Hydrogen Therapy (a natural, non-invasive and safe alternative therapy), to those who are in need of a solution to their pain and health problems but are unable to afford payment for these services.
The Compassionate Care Foundation aims to be the first not-for-profit organization in Malaysia that provides Molecular Hydrogen Treatment/Therapy for the under-privileged individuals suffering from chronic pain and various health problems, mainly diseases such as Kidney failure, Liver Failure, Diabetes, Side effects of Radiotherapy) and as well as those suffering from Skin Diseases and Wounds, thus enabling under-privileged individuals to regain a healthy and active life.
Our Advisor ~ YBhg Tan Sri Datuk Seri Lee Lam Thye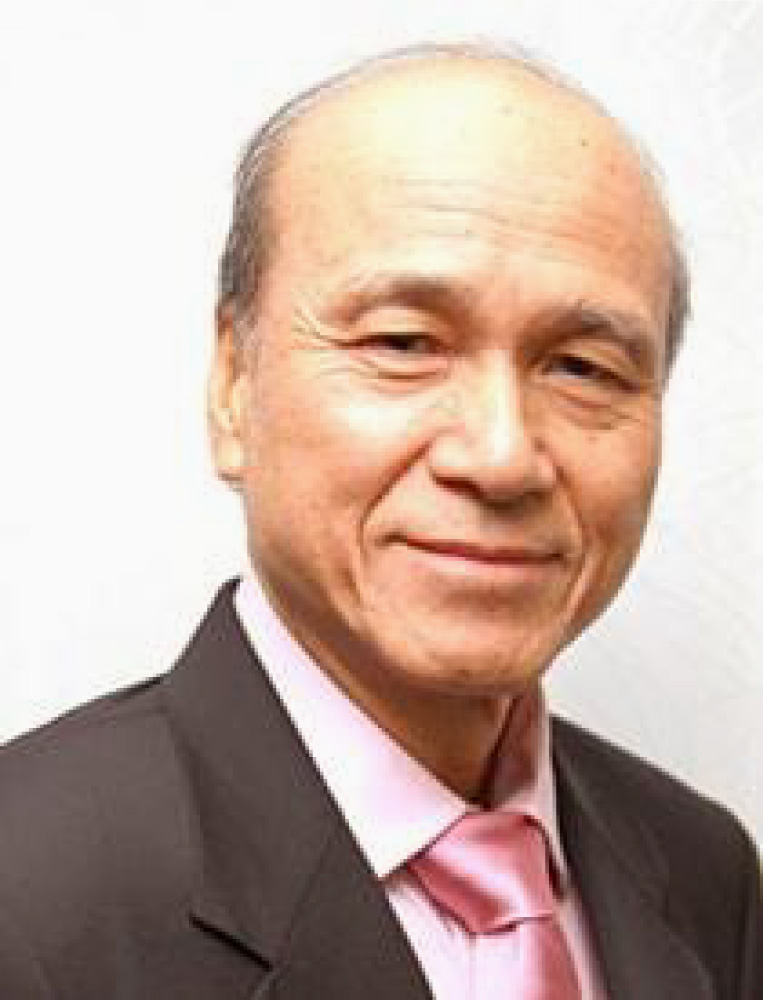 Since young, Tan Sri was profoundly interested to serve the country and fellow Malaysians in ways he could contribute towards the betterment of the nation. As such throughout the years, Tan Sri had always focused on the basic principles of welfare and safety of the rakyat. After his retirement from politics, Tan Sri continued to serve the nation in several capacities such as – Chairman of the National Institute of Occupational Safety & Health under the Ministry of Human Resources, Chairman of Eco World Foundation and Vice-Chairman of the Malaysia Crime Prevention Foundation, to name a few.
"As a community activist myself, I have always supported efforts to help the people, regardless of their backgrounds. I will give my best to help the foundation fulfils its mission to restore good health to the underprivileged Malaysians who are suffering from pain and poor health".
The aim of the 'Love.Hope.Health' Campaign is to reach out and help the under-privileged individuals suffering from these conditions to recover and to lead a healthier life, through Hi-Bliss Hydrogen Therapy.
Chronic Pain: To help relieve their chronic pain, enabling them to lead a normal pain free life
Skin Allergy and Open Wounds: To help resolve their skin allergies and open wound conditions
Diseases: To rebuild their body systems to fight diseases and restore their organ functions
Target Beneficiaries
This campaign is open to under-privileged individuals who fall under the following criteria:
Household or personal Income which is less than RM2,500 per month (or RM30,000.00 a year)
Unemployed due to illness or disabilities
Abandoned old aged individuals or others reasons as approved by the Board Members
Treatment sessions will be conducted at our Core Partner (Hi-Bliss) Centres at Menara Mudajaya and Damen Mall, Subang Jaya.
Target Date: This campaign will be on-going from May to December 2018.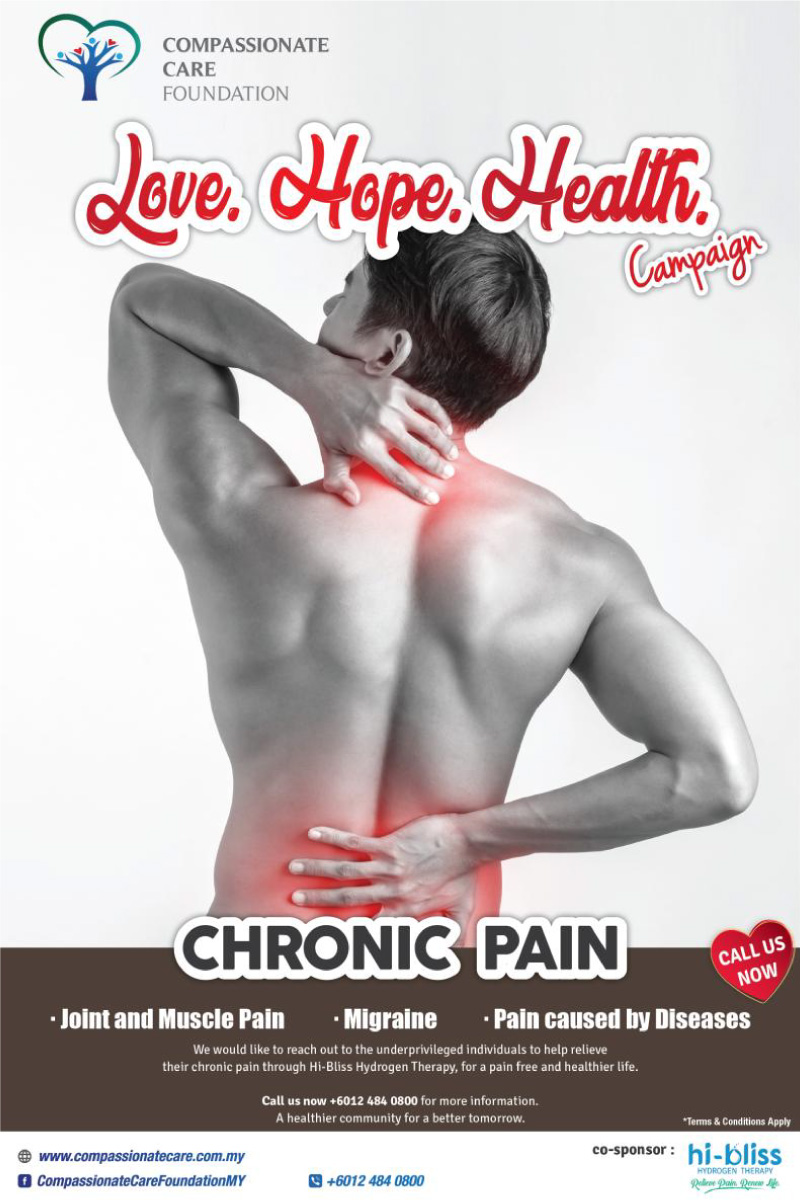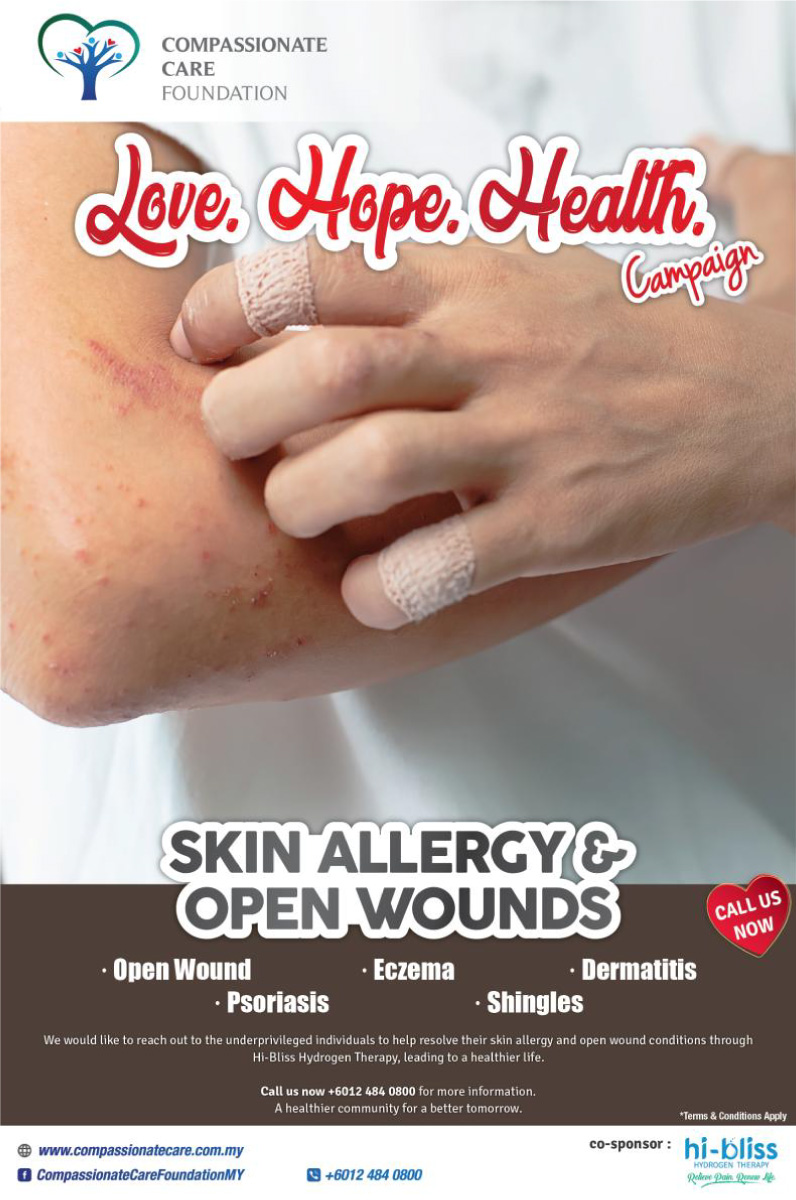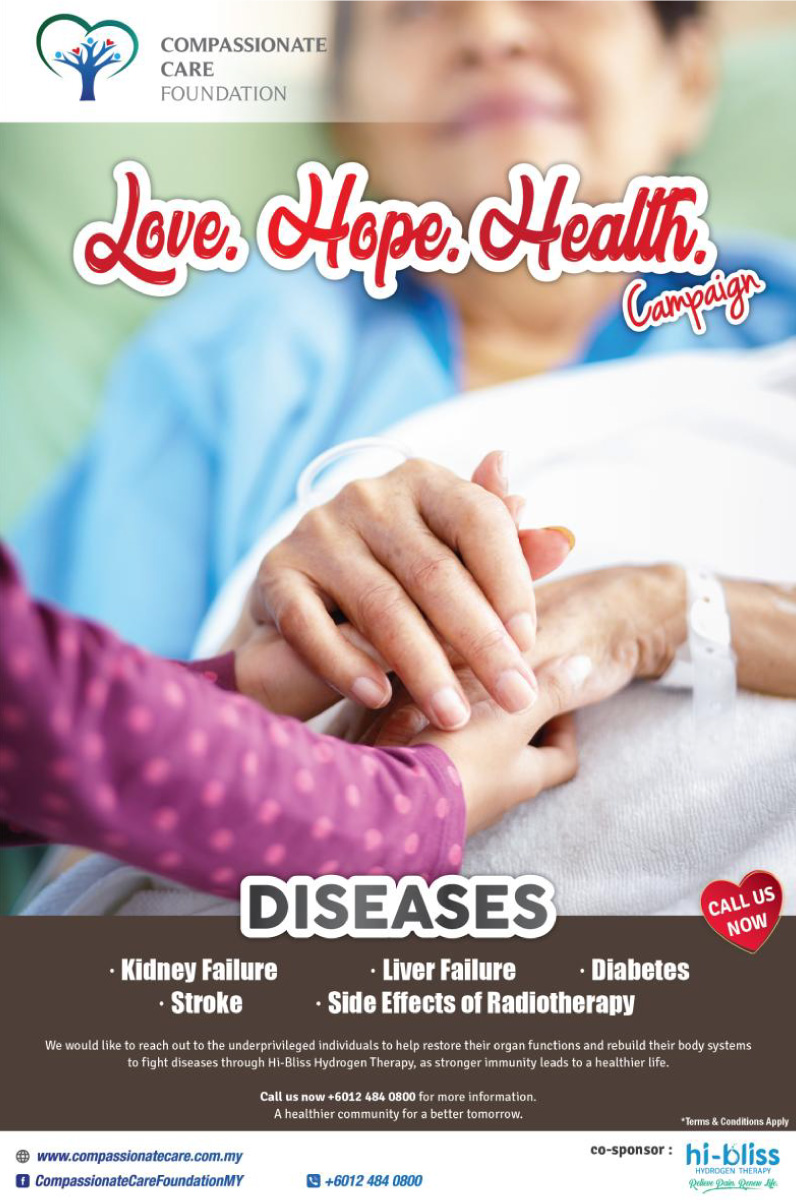 Contact us now at 03-7727 8679 or 017-847 5496 or via email at [email protected] to enquire on your eligibility for participation in this campaign or if you know of any individuals who may benefit from this campaign.