Cutting-edge engineering for added peace of mind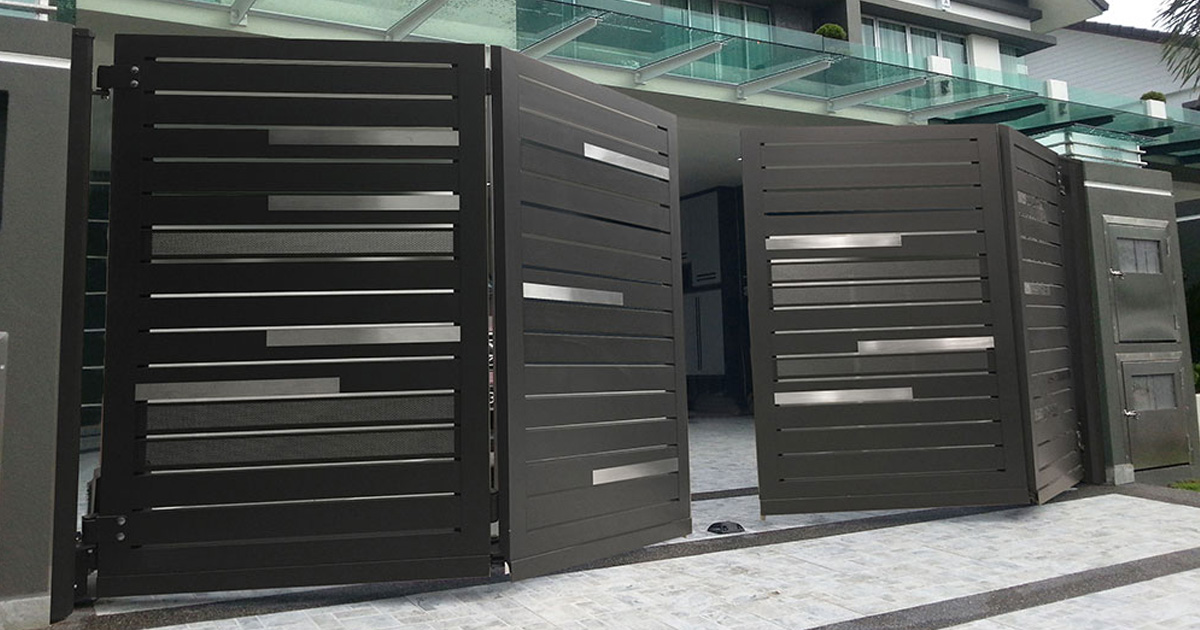 It's raining and you are coming home from work. As you approach the doorstep of your house, the autogate just won't work. You have to get out of the car to open it manually. You get wet and start cursing. How embarrassing that can be!
The track-sliding conventional autogates succumb to problems regularly. Stuck or derailed rollers, power outage, short motor lifespan, rusty gate, dirt, or water-laden track are among the culprits. When that happens, it's just another bad hair day for you.
Two things that concern autogate users most are product reliability and durability.
To fulfil these two criteria, it takes years of R&D and innovative engineering. DELUX Trackless Autogate now comes with a revolutionary solution to those headaches. It's specifically designed to enrich your modern living with added peace of mind.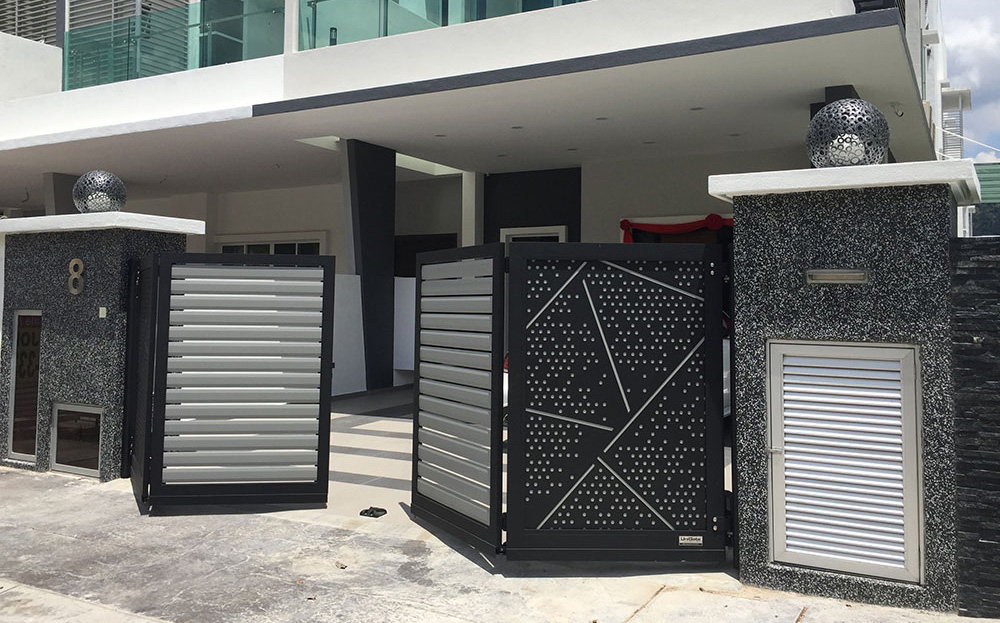 What makes it stand out from the crowd?
The first patented fully aluminium trackless folding gate system in Malaysia by DELUX gets rid of the track system altogether. Without the track and rollers, nothing gets trapped, stuck, or derailed. No slicing, cutting, or chiselling on the floor. And your beautiful tiles stay intact as there are no unsightly cracks.
That solves a few problems in a row. It prevents water, dirt, soil, stone, sticks, leaves, and other obstructive objects from getting stuck at the gate. This enables the motor to work smoothly to avoid unnecessary maintenance caused by the old, cumbersome design. DELUX Trackless Autogate is reinforced with a heavy-duty copper bush bearing for smooth operation to prolong the motor's lifespan.
The trackless system also prevents your car porch or home compound from being messed up by unwanted debris. It certainly saves you the hassle of doing the extra front-yard housekeeping.
DELUX Trackless Autogate is equipped with a 48-hour power backup system to ensure uninterrupted operation. This comes in handy during power outage caused by lightning or malicious sabotage, for instance. That's not all; incidents where people are robbed as they are opening their autogates manually during a malfunction are common too.
When your personal safety and home security are at stake, it's worth investing in a system that gives you peace of mind in every aspect. The product quality of DELUX Trackless Autogate is further affirmed by the SIRIM QAS International certification for passing over 50,000 cycle and durability tests. It has also earned the HOMEDEC Quality Award 2013.
DELUX Trackless Autogate has a built-in alarm system consisting of a multifunctional keypad and remote control with a panic button trigger to ward off intruders to keep your family and property safe. The gate will not accidentally unlock itself due to natural or human disturbances. It is also equipped with an auto-reverse sensor to detect the presence of kids or other objects to prevent them from being hit by or getting caught between the gate panels.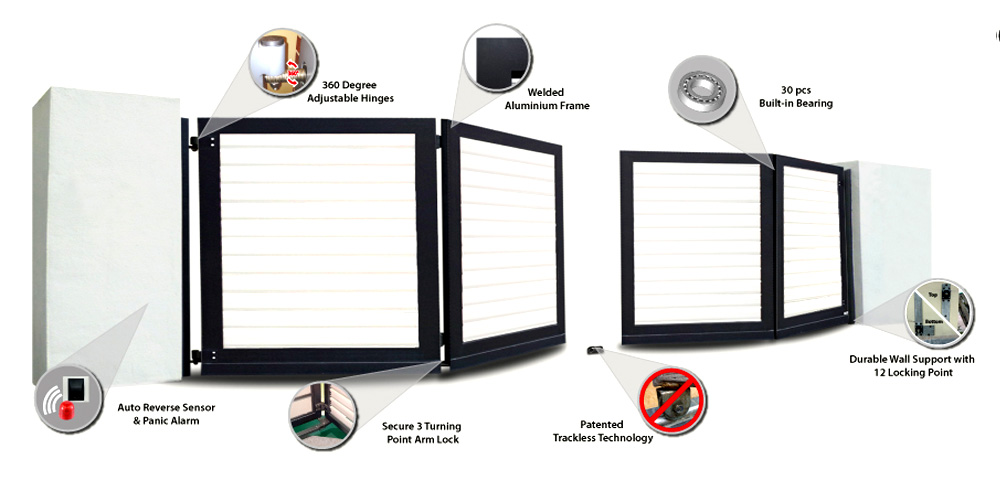 The installation of DELUX Trackless Autogate is made easy with the 360-degree adjustable hinges and heavy-duty waterproof bearings for vertical and horizontal adjustments. It adopts a highly durable wall-plug support secured by a 12-point locking system to cleverly balance the weight of the gate on the pillar. Better still, installation on uneven floor is no longer an issue for the trackless system.
No on-the-spot wielding is needed. For a top-notch finish, the entirely screw-fabricated gate is made using the German robotic wielding technology at DELUX's in-house facility.
The 3-turning-point arm locking system that supports (holds) two panels at the same time provides reinforced defence against intrusion such as forced break-ins. This is further enhanced with the anti-force latching mechanism. A hardened stopper is fitted to stabilise the gate in the right position to ensure it remains constantly closed in its locking state.
In order to withstand the hot and humid climate, DELUX Trackless Autogate is enhanced with premium, hard outdoor powder-coating for a more durable finish. This makes the gate more resistant to chipping, scratching, and fading. That saves you the repainting maintenance.
The very design of the trackless system allows for unprecedented flexibility and efficiency in many aspects, including space utilisation. The folding gate can fully open up wide up to 100-degrees point-to-point to allow for more parking space and ease of entering and exiting.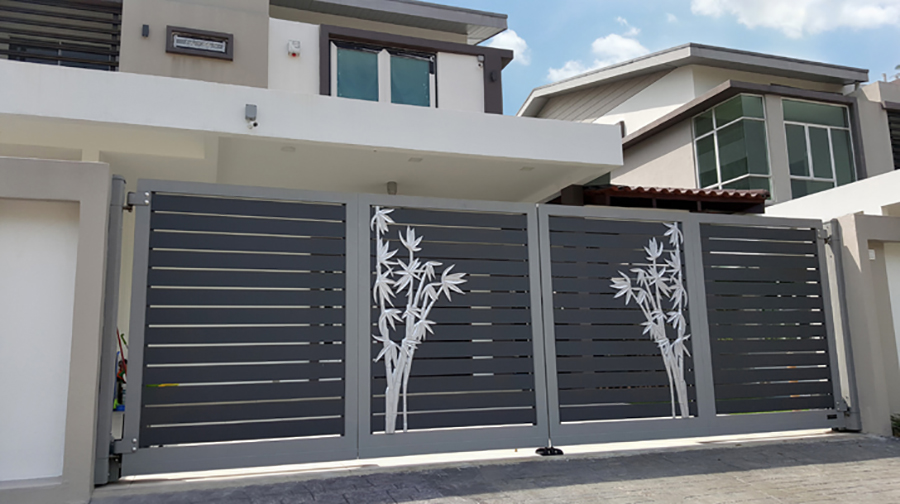 DELUX Trackless Autogate is trusted by many satisfied customers for its secure, reliable, and durable build and performance. It suits both domestic and commercial use such as houses, shops, warehouses, and factories with many prefab or customised designs to choose from. The brand has been a leading pioneer in trackless technology since 2009 with a wide network of sales and service centres across Malaysia.