In response to the government's efforts to stimulate the residential property sector, IOI Properties Group has unveiled a host of home ownership incentives under an unprecedented 'IOI F.R.E.E. Ownership' campaign.
Announced by Finance Minister YB Lim Guan Eng in January 2019, under the government's Home Ownership Campaign (HOC), buyers are exempted from paying stamp duty on the transfer of property priced up to RM1 million and stamp duty on the loan documents for properties priced up to RM2.5 million.
Taking advantage of this, the 'IOI F.R.E.E. Ownership' campaign takes things one step further for greater savings.
Encapsulating the program's benefits, the name 'IOI F.R.E.E.' is an abbreviation for Flexible financing options, Rebates, Extra rebates and Exemptions on stamp duties.
The best time is now to own your dream home!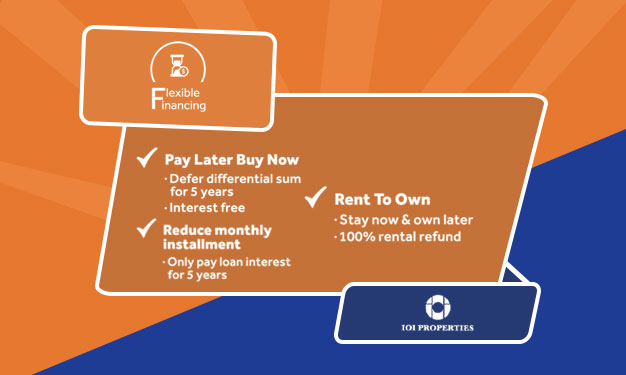 Flexible Financing:
IOI Pay Later Buy Now helps prospective homeowners move forward with the next phase of their lives. Eligible prospects will enjoy a low down payment and an extended period of 5 years to settle their differential sum payments, free of interest!
With the flexibility afforded under this program, homebuyers will get extra cash in hand, and would be able to go ahead with their other plans, such as marriage, investment or renovating and decorating their new home during the 5 year deferment period!
Need more cash? There's more! Free up some cash and reduce your monthly instalment payment by opting to service only the loan interest (without the repayment of principal loan sum) for the first 5 years of the loan tenure.
IOI Rent To Own as the name suggests, allows homebuyers to stay in a home of their choice now and own it later, and it also comes with a rental refund of up to 100% that goes towards offsetting the property purchase price. This campaign is specially tailored to give homebuyers a head start in owning their home. Homebuyers are presented with plenty of time to beef up their loan eligibility, save up for a down payment or even try out the development before committing.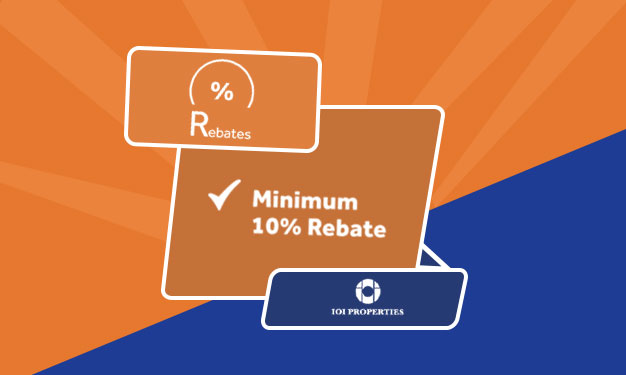 Rebates:
This is the time for rebates and more rebates. For a start, homebuyers can enjoy a minimum of 10% discount. On top of that, IOI Properties has lined up a host of additional rebates for a host of award-winning developments just for this 'IOI F.R.E.E Ownership' campaign period. What's more, IOI LiVO members get to enjoy a further discount on top of the additional rebates!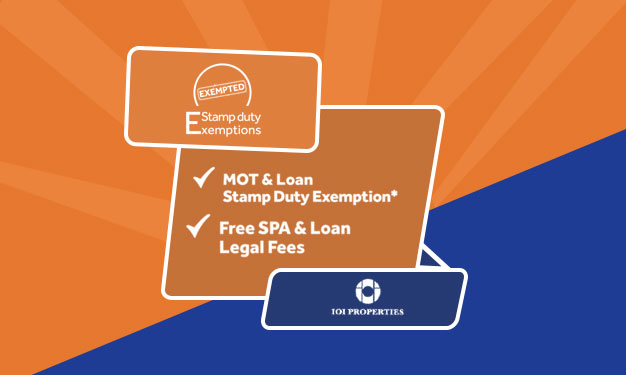 Exemptions:
In addition to the government's waiver of stamp duties for both MOT & loan documents, IOI Properties is covering all SPA & loan legal fees. Collectively, the extra cash in hand, discounts, rebates and free legal fees add up to a hefty and neat savings for homebuyers.
Encouraging homebuyers to move fast, IOI Properties Chief Sales and Marketing Officer Jason Tie said "The best time is now. There is no better time to buy a property! It has been announced that the stamp duty exemptions are applicable to all buyers and not just for first time homebuyers. Homebuyers should act now before 30th June 2019 to enjoy all the incredible savings."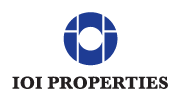 For more information on the IOI F.R.E.E Ownership campaign