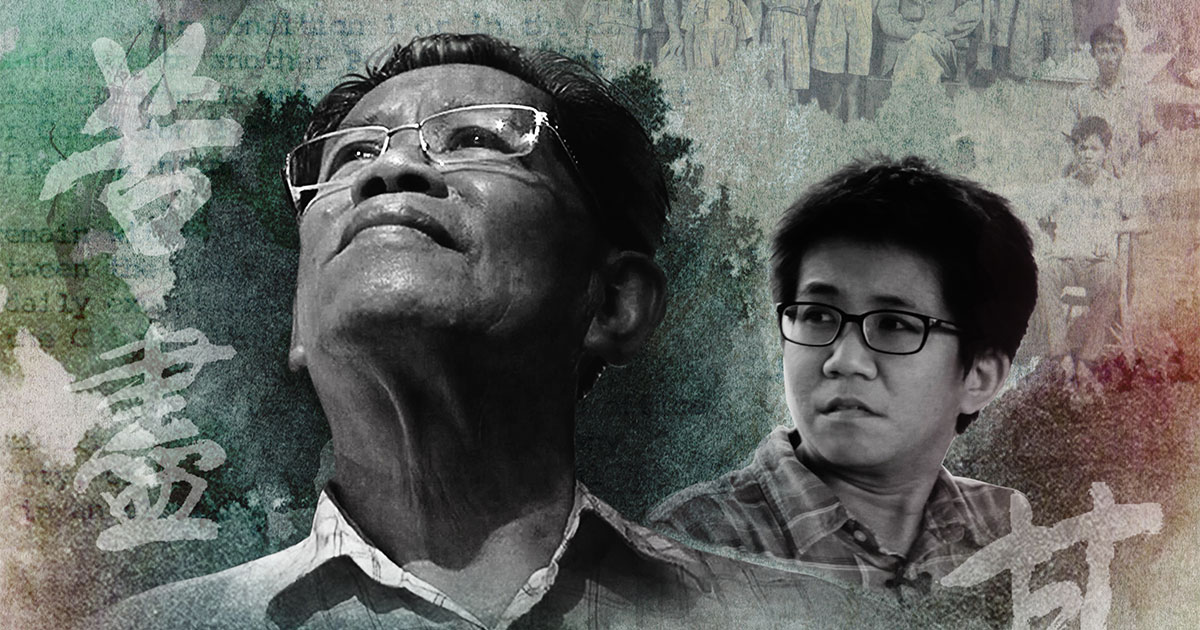 A daughter's journey in getting to know her father
A daughter's journey in getting to know her father
Not a lot of us know what our parents lives were like before they had us, probably because you never think there would be much worth knowing about. To be fair though, most of our parents probably did live lives that weren't very shocking.
Ashleigh Lim's father, on the other hand, has a life that would be incomparable to most. As she began her journey in getting to know her father, she decided to take things a step further and film the entire process.
Stories From My Father is a short film by Ashleigh Lim, a 40 year old simulation artist from Muar. The film documents her experience as she goes on a journey to discover her father's dark past.  
Trailer for Stories From My Father
Ashleigh's father was detained without trial, from 1968 to 1974, under the Internal Security Act for his involvement in the Labour Party which was subsequently outlawed because of its pro-communist leanings.
Poster of Stories From My Father
The film offers us a glimpse into his experience during his detention and his life after it. It also follows his continued friendship with other ex-detainees as well as life with his family.
Ashleigh wanted to share her father's story with the world and so pitched her idea in an entry for a film grant competition organised annually by FreedomFilmFest. She ended up winning the grant and started making the film in June of this year.
"The production period is quite short, only 2 months, so it was very hectic. I work a full time job so I only have weekends to shoot. My team was also very small, only 3 people. It is me, my camera man, who is also my editor, and my production manager who gives me proper input and helps me with the overall vision of the film," she said.
She did say, however, that the people at KOMAS, the organisers of FreedomFilmFest, were incredibly supportive and made the experience a lot easier for her.
"Before making this film, I didn't know much about the short film industry in Malaysia. I watched certain social documentaries, but not any from Malaysia. Most of the films that KOMAS helps produce are actually very good and opens your mind."
She was first inspired to make the film when Seong Foong & Victor, winners of last year's FreedomFilmFest film grant, encouraged her to share her father's story.
"Don't only watch mainstream films."
"They made a film called Memory as Resistance, through a grant from KOMAS as well. Their film premiered at the festival last year. They heard about my father's story when they came to Muar to do the film premiere. They got interested in it and thought it was a great story to film," Ashleigh said.
When asked about how her father felt about the whole thing, Ashleigh said that he was, in fact, extremely excited by the idea of sharing his stories.
"I think he was very happy. He never thought he would be someone in a film. He's been very supportive too. When I was small, he didn't try to hide his story, but we didn't talk about it much. I never knew his whole story. I think it's mostly because I never brought it up. It's not really something people in the family like talking about. We preferred just the regular chit chat. So whatever my father described was a total shock to me."
This is actually Ashleigh's first film and, since she's had no experience with the film industry in the past, ended up being a huge learning experience for her. She said her favourite part of the process was the experience she had shooting.
"It was a very challenging experience but I enjoyed it. Learning how to form the structure of the stories was really nice. You get to know the different ways to tell stories and what types of presentation will attract people," she said. "A friend of mine and I are also working on doing motion graphics for the film, meaning 2d animation. People always think documentaries have too much talking since most films just try to show as much information as they can to the audience. I don't think social documentaries should be boring. Even if you have a good story, the way you present it is important."
Ashleigh also hopes that the film will encourage viewers to learn more about the underrepresented or less talked about issues people in our country face.
"Don't only watch mainstream films," she said. "I want people to try opening their minds. A lot of people don't like talking to other people who have different opinions. Try to be more understanding of other people's stories. Close minded people are not good for society."