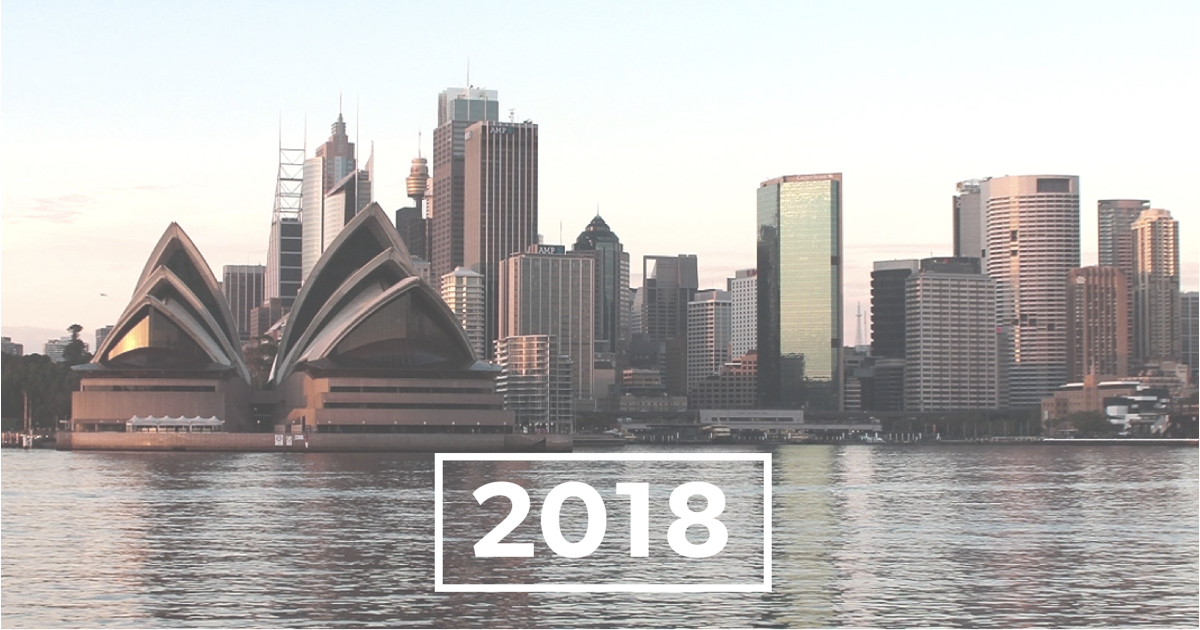 Australia is no stranger to Malaysians. Malaysians would've heard of Perth, Melbourne, Sydney, Brisbane, Canberra, Adelaide, Gold Coast, Tasmania, Darwin; let alone travelled for holiday or sent their children to further their studies in these cities. With that being said, Australia is also one of the top investment destinations for Malaysians.
No doubt, investing in Australian properties is a different ball game than investing in Malaysian properties. It'll help in your investment decision to understand the Australian property culture, jargon, terms, and regulations beforehand. Below are some comparisons of how Malaysian properties differ from Australian properties. Below is a teaser of Australian properties 101.
Freehold Titles
Property ownership in Malaysia is divided into two main types of titles:
Freehold
Leasehold (99-years lease)
Australian property laws are comprehensive and protect owners with freehold titles – not leasehold. Homeowners own the property in perpetuity for now and for their future generations. They do not have to lease the land from the government and renew the lease back to 99 years.
House & Land
In Australia, terrace houses are known as townhouses. In Malaysia, townhouses take on a different meaning. A townhouse is literally two houses on top of one and another. For example, a family may share the ground floor and the first half of the first floor. Another family may share the second half of the first floor and the second floor. It serves as a multi-generational home or for two streams of rental income. The similar concept to a Malaysian townhouse is the Dual Living house in Australia. It is two properties in one: a three bedroom family home and a one bedroom unit.
The common type of house in Australia is the House & Land, compared to Malaysia's terrace house. In Australia, boring is best.
A house & land is basically a free-standing home built on your own plot of land. The size of a house & land is equivalent to the size of an average bungalow in Malaysia. The land size for an Australian house maybe 4000-6000 square feet which is similar to a Malaysian bungalow. Furthermore, an Australian house can be on a land as massive as an acre or more. Therefore, to put it into Malaysian perspective, they're owning freehold bungalow land in Australia.
Australian houses are generally single-storey. Of course, there are double-storey houses. In Malaysia, the majority of the old and new houses are double-storey. Majority of the land is in the backyard which is the opposite of Malaysian houses in general. Australian houses are fenced all around, except for the front porch. In the summer, Australians will Barbie (Barbecue) with a can of beer and watch football in their backyard. In addition, Malaysian houses have a car porch to park their cars. Australian houses have garages to not only park their cars but to store their junks.
Gated & Guarded?
Due to the spike in crime and snatch thefts, local residents took the initiative to secure their tamans (neighbourhoods). Today, we've gated and guarded communities in Malaysia. Sections of neighbourhoods are fenced, gated, and guarded by community-hired security guards.
In Australia, the term gated and guarded community does not apply. Even if it does, it only applies to the super-rich bungalow communities and not the average, common neighbourhoods. The communities and the houses in them are not gated and guarded. If a house is gated; it's probably an Asian (or Malaysian) owner.
Full Turn-Key Package
New housing developments in Malaysia generally have three types of furnishing options:
Fully furnished and move-in condition

Partially furnished with fixtures and fittings

Unfurnished or bare unit
The developer determines the furnishing package. New houses are usually unfurnished. New service residences are either one furnishing choice only or a combination of the multiple options above.
In Australia, new houses and apartments are built partially furnished. They are known as full turn-key packages with nothing more to spend. This generally includes:
Stone bench tops to kitchen and bathrooms

Reverse cycle A/C unit

Fans to bedrooms and pavilion

Tiles to all living, wet areas, pavilion, and portico

Carpet to all bedrooms

Roller blinds to all windows and sliding doors

Landscaping including driveway and paths
In Malaysia, owners have to further furnish their new houses and apartments with air conditioning, fans, lights, kitchen cabinets, curtains, etc.
Contracts to purchase
When buyers buy a newly completed house in Malaysia, the selling price is quoted as a whole. Buyers only sign one contract for the house – the Sales and Purchase Agreement (SPA). Buyers pay one price for both the land and the building.
Its different in Australia. The price for the land and the price for the building are separate. For example, the total price of a house may be AUD$589,904. Of the AUD$600,000, the price of the land is AUD$308,400 and the price of the building is AUD$281,504.
Buyers sign a split contract, whereby there's a contract for the land and a separate contract for the building. The stamp duty is only based on the land, not the building.
Construction Time
New residential developments in Malaysia take years to complete. New service residences take three to four years to construct. New houses take two to three years to complete.
In Australia, developers release plots of land in stages. A buyer purchases a plot of land from a developer. The builder then goes about building the house on the purchased plot of land. Construction takes an average of six months to complete!
Body Corporate Fees
In Malaysia, apartment and condominium owners are subject to maintenance fees with a sinking fund. For example, the monthly maintenance charges may be RM0.30 per square feet plus 10% sinking fund (RM0.03) which equates to RM0.33 per square foot. If a unit is 1000 square feet, the owner is subjected to a monthly maintenance fee of RM330. The apartment and condominium's management collects the maintenance fees from the owners to maintain the building and the facilities in it.
In Australia, it is called Body Corporate fees. The body corporate fee is calculated on a per annum basis and then divided into weekly payments. Unlike Malaysia which is paid monthly, the fees are paid weekly in Australia.
Square Feet vs Square Meters
In the property industry, Malaysians and Australians use different measurement systems. Properties in Malaysia are measured in square feet (sq. ft.); whereas properties in Australia are measured in square meters (sq.m.).
Rent weekly and not monthly
For property investors, upon vacant possession, the next step will be to rent out the house. In Malaysia, the rental is calculated monthly. In Australia, the rental is calculated weekly. Collecting rent weekly allows an investor to earn approximately 8% more than collecting monthly.
Assuming the monthly rental is RM1,200 per month. Per annum, the investor earns RM14,400. However, if the RM1,200 was divided by four, it'll be RM300 per week on average. There are 52 weeks in a year. If the rental is collected weekly instead, the investor stands to earn RM15,600 per annum! That's one week more of rental, as compared to renting it on a monthly basis.
Entry and exit strategies
As a foreigner buying a property in Malaysia, there are a few barriers to entry. In Kuala Lumpur, the property value has to be at least RM1,000,000. In Selangor, the property value has to be at least RM2,000,000 and with strata-title. Different states have different threshold levels and restrictions.
Foreigners can purchase a Malaysian property by borrowing from a Malaysian bank. Generally, foreigners have a 70% margin of finance or they can only borrow up to 70% of the purchase price.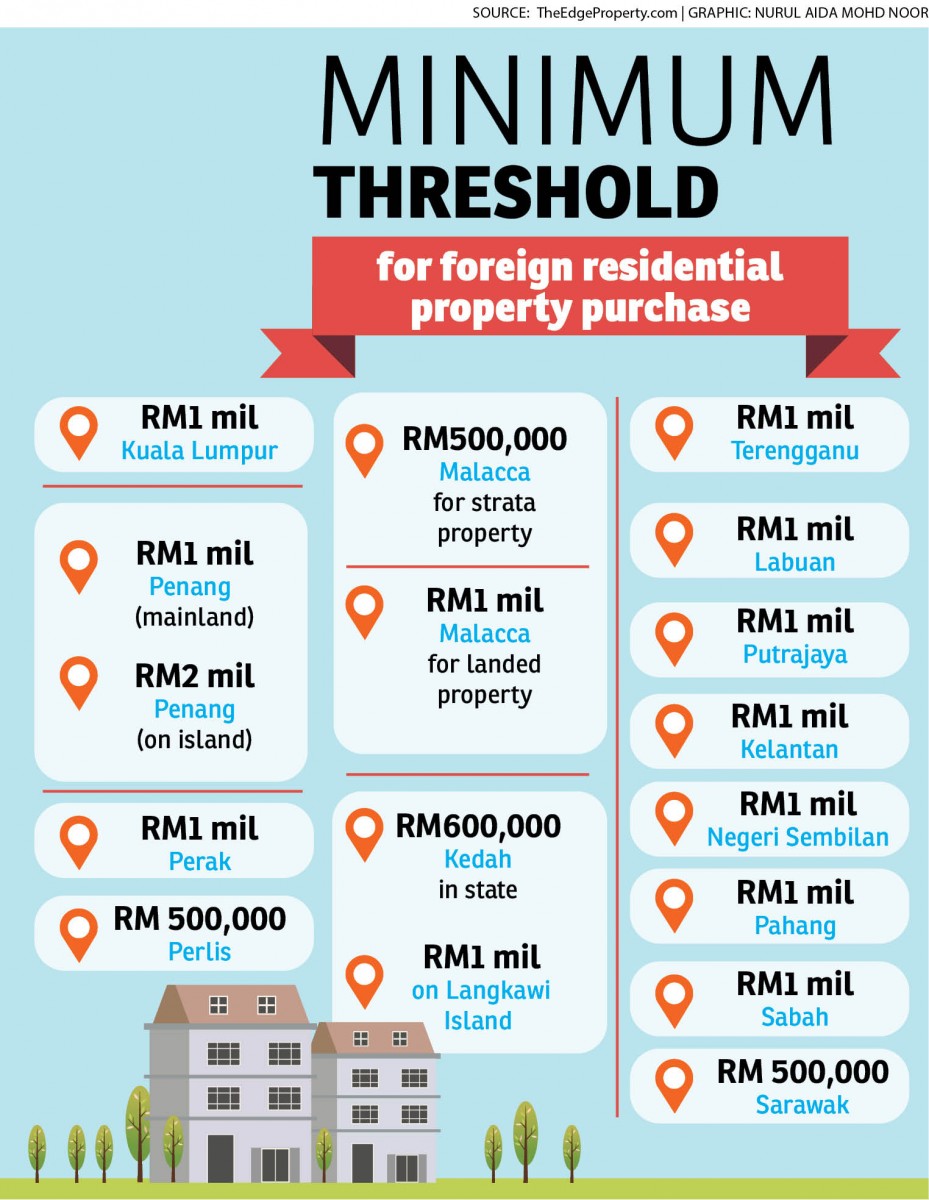 In terms of an exit strategy and selling the property in Malaysia, the foreign owner can sell to anybody – Malaysians and non-Malaysians alike. Nonetheless, the foreign owner is also subject to the Real Property Gains Tax (RPGT) upon selling his or her property.
Unlike Malaysia, there is no minimum threshold in Australia. However, foreigners can only purchase new projects or under-construction properties. Foreigners are then subject to an entry-level tax – Foreign Investment Review Board (FIRB). There's the FIRB Fee by the Australian federal government. In addition, each state charges its own FIRB surcharge and stamp duty. In Malaysia, the stamp duty is established by the federal government as a whole.
When selling the property in Australia, the foreign owner can only sell back to Australians only. The owner is also subject to paying capital gains tax on the sale.
Things you've learnt about Australian properties
In summary, we've learnt how Malaysian properties differ from Australian properties by way of home ownership, housing, security, contract to purchase, construction, maintenance, measurement, rental collection, and investment strategies.
Comment in the section below additional interesting things you've learnt about Australian properties, investment, and culture as compared to in Malaysia or in your own country?