This is the real moment to get your dream home
There are several unavoidable big-ticket items that people traditionally aspire to own and one of them is easily the most important in your life – a dream home! To many people, especially those who have been searching high and low for one, this could be a lifelong ambition and commitment. It takes time, money and energy to make that happen – a roof over your head. 
The good news is that things are starting to look up for our economy as businesses are opening up with more and more economic perks in place. The 'reintroduced' 2020 Home Ownership Campaign (HOC) is bringing unprecedented incentives to the delight of people from all walks of life, in the next 12 months. 
PENJANA incentives 
Calling all homebuyers both first-timers and those contemplating getting additional properties, this could be your once in a lifetime opportunity to make the best out of  the recently announced short-term economic recovery plan called  "Pelan Jana Semula Ekonomi Negara" (PENJANA) – a RM35 billion stimulus package to invigorate our economy 
The 4th and latest emergency relief, which is part of the RM295 billion economic boost to-date, aims to increase home ownership among Malaysians amid rising living costs. This is being implemented via two very practical measures – stamp duty exemptions on the Instrument of Transfer (MOT) and Loan Agreement for new launch properties (valid till 31 May 2021), and Real Property Gains Tax (RPGT) exemption for disposal of up to three properties (valid till 31 December 2021), under the 2020 HOC.
Huge potential savings
Let's say you are planning to buy a RM500,000 residential property, the potential savings you get to enjoy are illustrated below: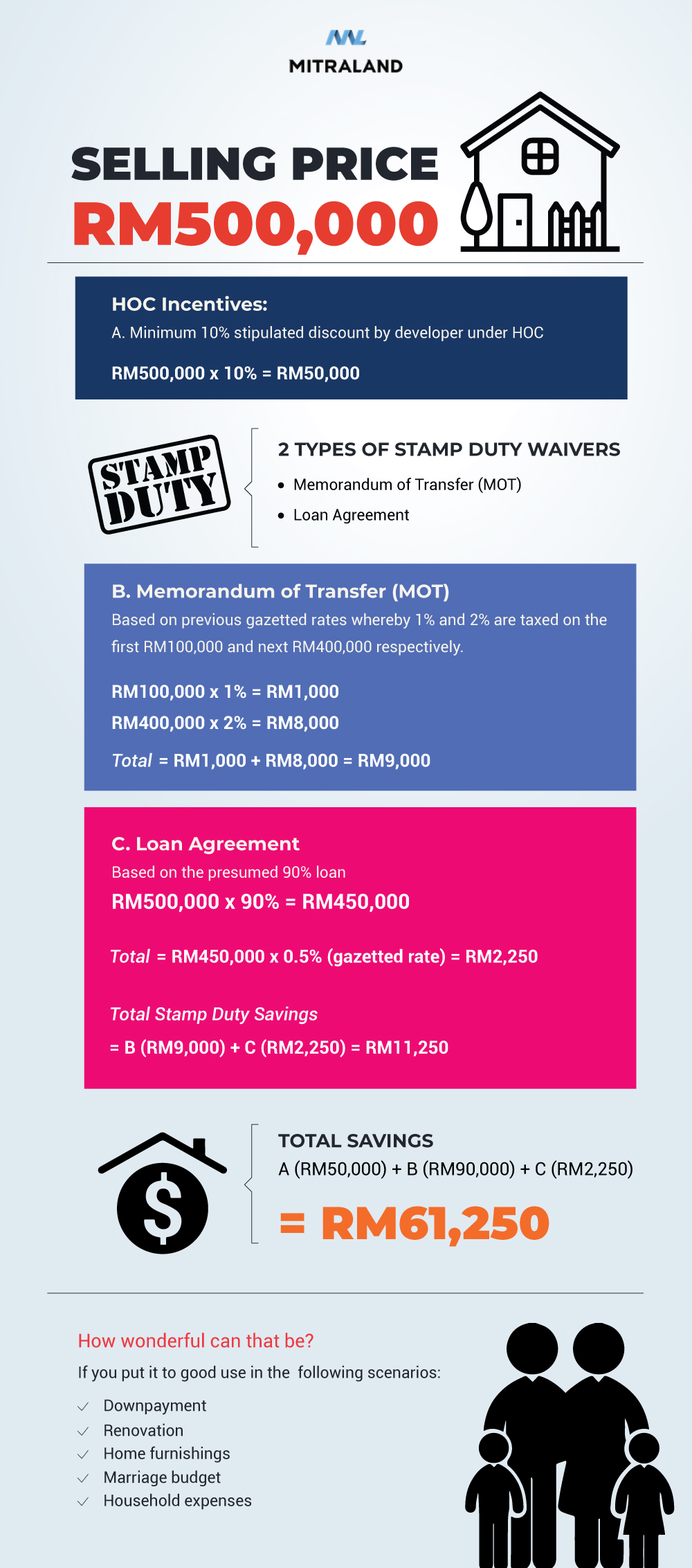 Buy properties and enjoy extra benefits 
More encouragingly, you can have a diverse property portfolio and still enjoy full and partial applicable stamp duty exemptions under the HOC campaign.
This is further sweetened by the lifting of the maximum 70% financing margin for the third home loan onwards (applicable to properties priced above RM600,000), meaning you can now borrow more to ease your home loan burden to suit your budgeting. 
Put it simply, be it you are a first-time homebuyer or an investor, you stand to gain from the now even more palatable HOC incentives. It is a win-win situation for both the buyers and developers.  
What properties qualify for the 2020 HOC and who can benefit from it?
NEW Residential properties* priced between RM300,000 and RM2.5 million by participating developers for Malaysian citizens.
*Properties registered with the relevant authorities for each region as follows:
| | |
| --- | --- |
| Peninsular Malaysia | Real Estate & Housing Developers' Association Malaysia (REHDA) |
| Sabah | Sabah Housing and Real Estate Developers Association (SHAREDA) |
| Sarawak | Sarawak Housing and Real Estate Developers' Association (SHEDA) |
Low borrowing rates
Bank Negara Malaysia, within the first half of the year alone, lowered the Overnight Policy Rate (OPR) three times, starting in January, followed by that in March and May (lowest since 2010) – to make the borrowing environment more conducive for consumers. The move is to cushion the Covid-19 inflicted economic impact. 
Knowing that OPR changes will directly influence the Base Rate (BR) and Base Lending Rate (BLR) revisions by the banks, lower OPR simply means lower borrowing rates for the consumers.
This certainly augurs well for house-hunting homebuyers as the current home loan interest rates have dropped to a very favourable range to the delight of home buyers. Please refer to the banks for the latest rates. 
So, is now a good time to buy your dream home? 
YES, obviously!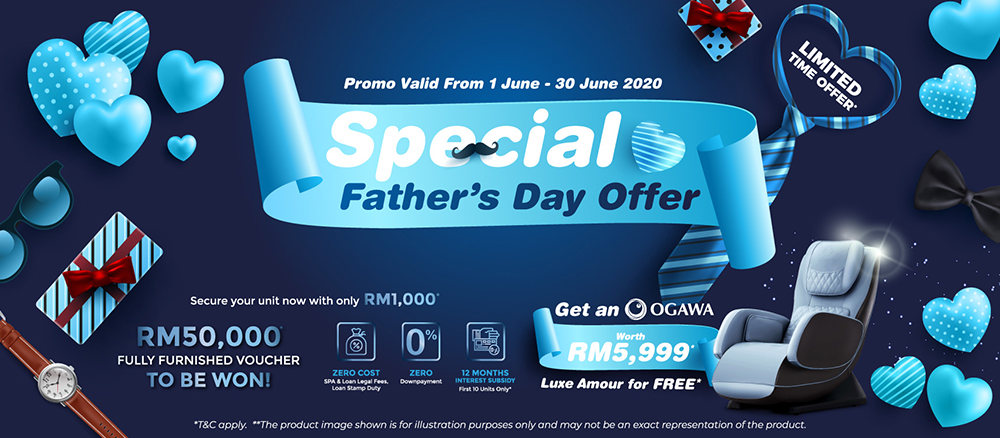 Goodies up for grabs
Don't miss out on Mitraland's Father's Day promotion this June with plenty of giveaways to take home including 10 units of Ogawa massage chair worth RM5,999 each – on a first come, first served basis, for bookings made by 30 June 2020, subject to certain terms and conditions.
Other goodies include a lucky draw renovation package (voucher) worth up to RM50,000 to style up your unit, zero downpayment, extremely low booking fees from RM1,000, additional subsidy for 12 months (limited units only), zero-cost Sales & Purchase Agreement (SPA), legal fees and stamp duty.
Get smart!
Given the intensifying competition and irresistible offers out there, this could be the most opportune time for you to close the deal.
Gravit8 @ Klang South and Upperville @ Melawati are two specially crafted developments suited for the communities that they serve in.
The 2020 HOC is running until 31 May 2021 to make your dream come true.
Visit the Gravit8 or Upperville Sales Gallery as it's Open Daily