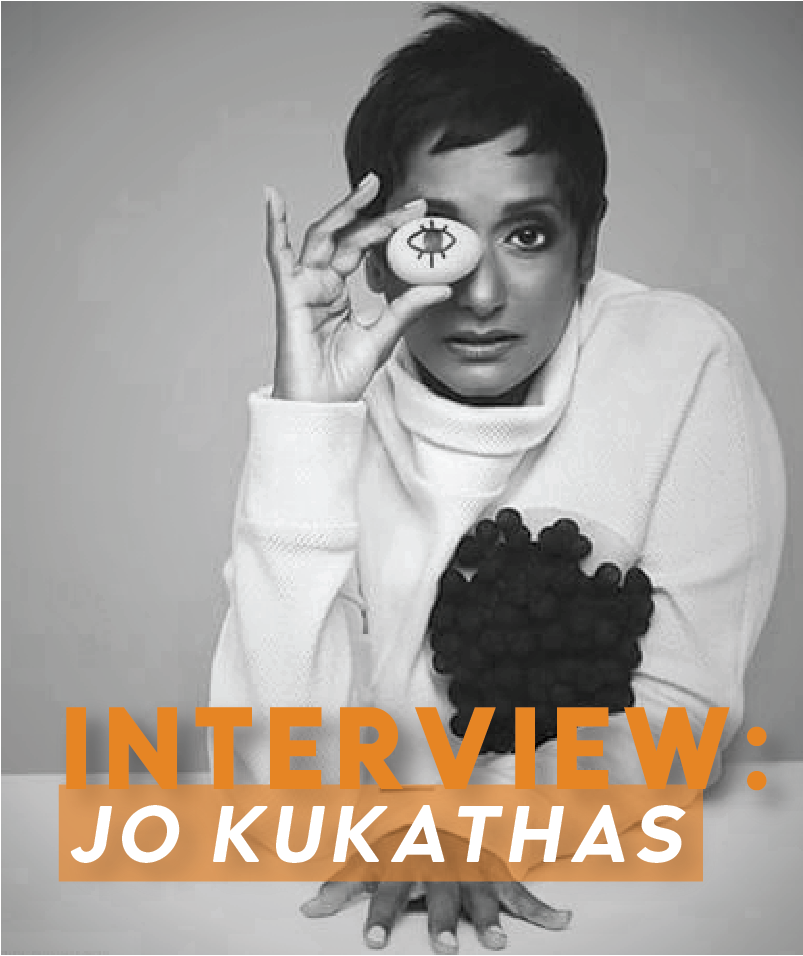 The Instant Café Theatre Company turns 30 this year. To begin the year, ICT is in the process of restaging Gold Rain and Hailstones as the opening of a programme of Malaysian writers, voices and stories. Gold Rain and Hailstones by Jit Murad is a seminal work in Malaysian theatre history.
It was Jit Murad's first play, originally staged in 1993 to huge public and critical acclaim. Jit and his plays inspired a generation of Malaysian writers in both film and theatre, and he counted such people as the late, great Yasmin Ahmad among his close friends. His plays also delighted a generation of theatre goers who loved his wit, his warmth, his ingenuity, his way with words and his very Malaysian humour.
There are a number of reasons for restaging this play now. One is because it is an important play that has particular resonance for us Malaysians today. Hujan emas di negeri orang, hujan batu di negeri sendiri, baik lagi negeri sendiri as the old saying goes. Whether that is true or not is the subject of the play. Another reason is to introduce Jit Murad and his work to a new generation of Malaysian theatre makers. We hope this restaging of Gold Rain can inspire another burst of creativity just as it did before. Originally directed by the then 'up and coming' young director Zahim Albakri, it was performed by Jit Murad himself and Lin Jafaar. Now the task of directing has been given to another 'up and coming' theatre and film director, Gavin Yap, whose second major feature film will be released in April. This play marks his return to theatre after a period honing his craft in cinema. Ultimately, he intends to turn the play into a feature film. The play features an impressive cast of strong, young actors: Sharifah Amani, Redza Minhat, Farah Rani and Ghafir Akbar.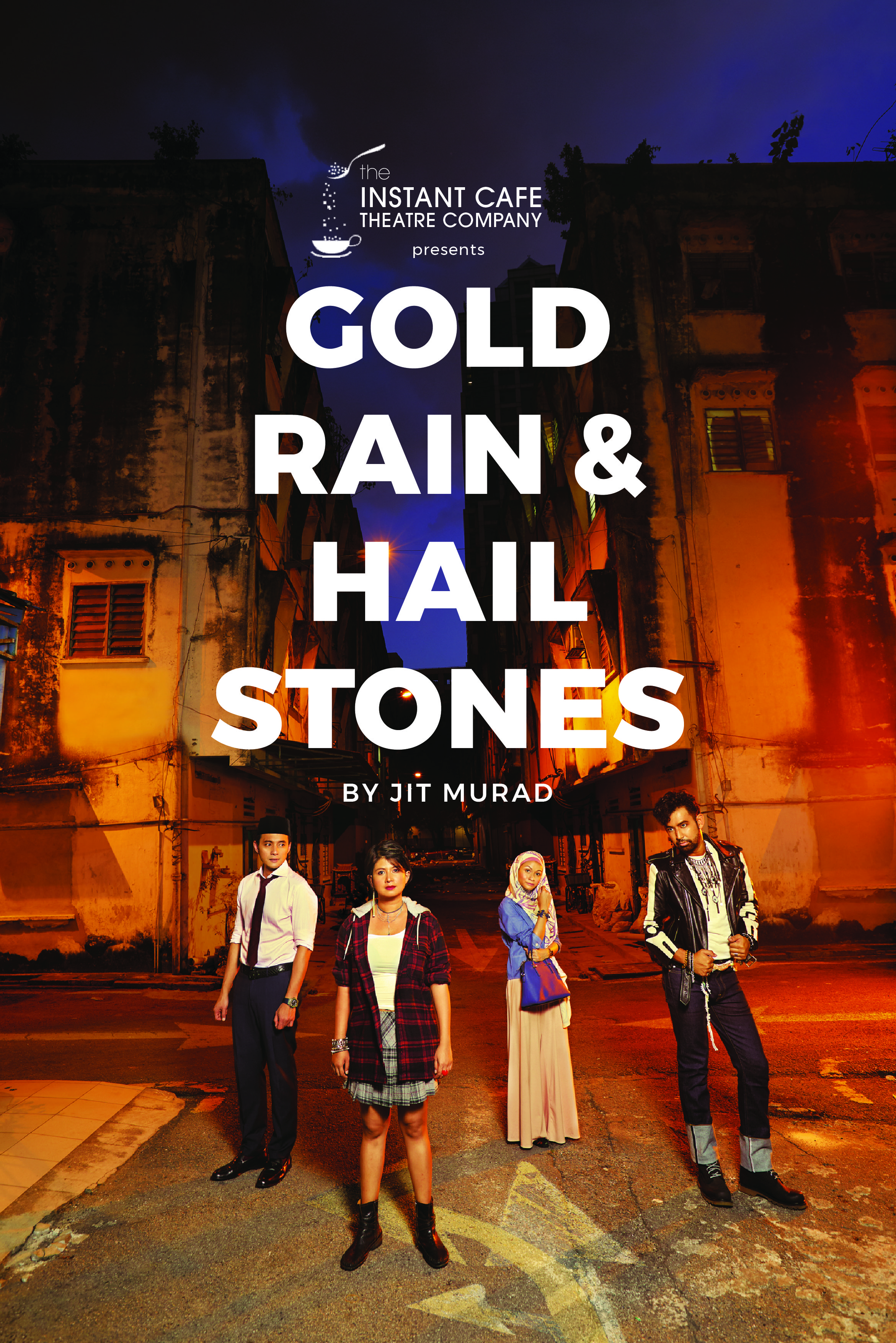 Why are stories like Gold Rain and Hailstones important?
Because in this new and promising era, the people of Malaysia need to have their stories told and their voices heard. Hujan emas di negeri orang, hujan batu di negeri sendiri, baik laginegeri sendiri is the reality today.
But people want to speak, to know if they can speak without fear, to ask questions, form their own opinions, debate, make informed decisions more than before. Good theatre creates the environment for intellectual and creative liveliness. It sparks curiosity; feeds inventiveness; stimulates creative thinking and leads to creative solutions; it nourishes critical thinking and forms independently-minded people who are not easily led.
The purpose of theatre is to share stories, to provide a place where we can listen deeply to each other. Good theatre tells the diverse stories that we must hear if we are to have a better understanding of those outside our immediate communities. It generates empathy, develops kindness and cultivates generous, open-minded, tolerant individuals.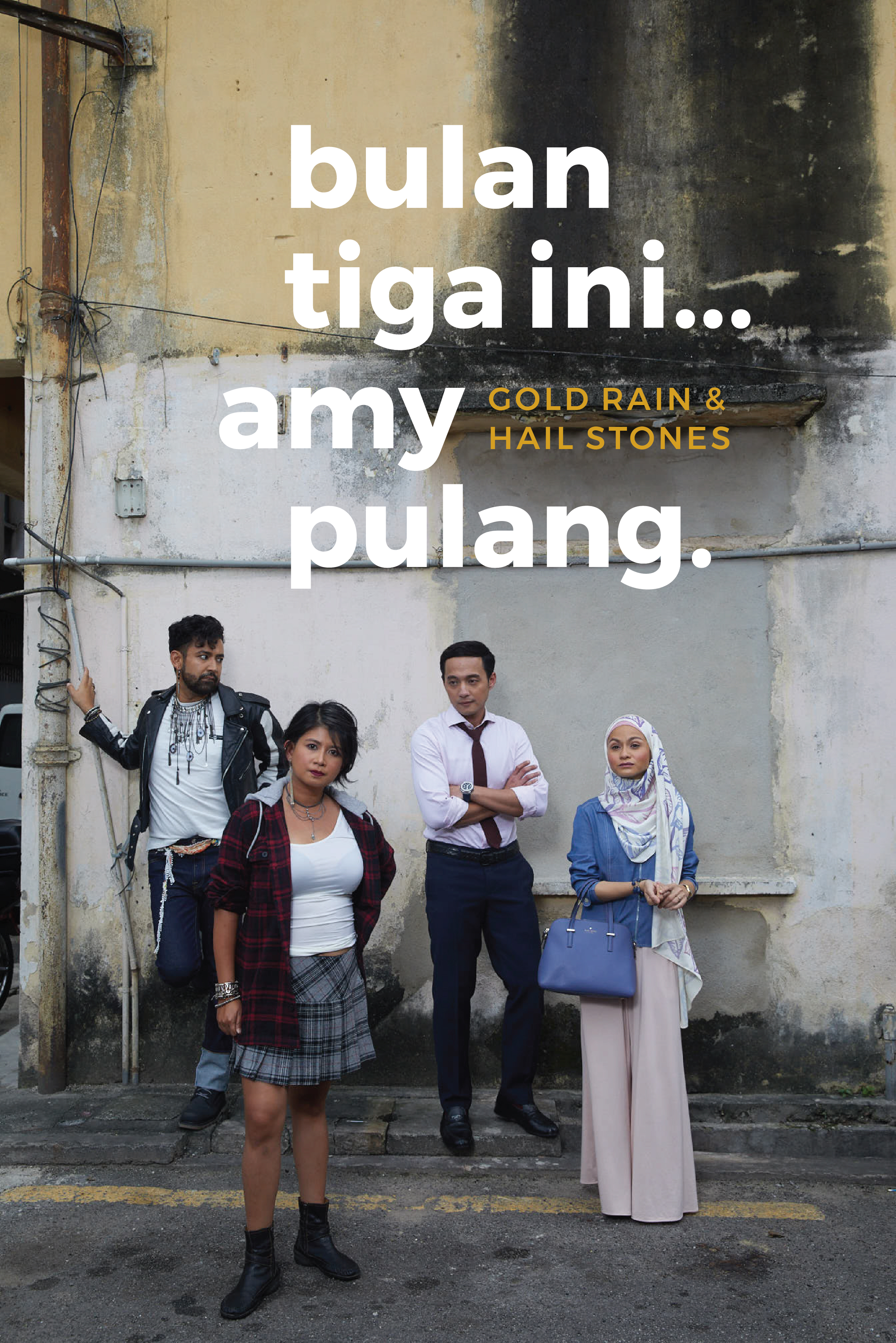 Theatre provides an outlet for the dispossessed, the disadvantaged, the voiceless and invisible, the youth from troubled backgrounds, the middle class liberal who feels under attack, the quiet conservative who feels she cannot express her opinion safely. As in the Malay tradition, good theatre can be a place of healing and emotional growth for the community, a soothing balm and an avenue to explore and come to terms with some of life's harsh realities.
ICT has always been a 'people's theatre', giving equal value to theatre and its audience. It believes in breaking through protocols and in making theatre for everyone. It hopes to make us all feel braver to say what is on our mind – singly and as a collective. There is no one opinion that is right or wrong.  It wants theatre viewers to see themselves as a diverse but homogenous lot – people seeking to express themselves or to see their experiences reflected. Through its political satire it has tried to speak Truth to Power; through its current New Malaysian Writing platforms – FIRSTWoRKS and ALMoST TRUE SToRIES –  it wants to help nurture new Malaysian writers who have written in Malay, English, Chinese and a mixture of all those languages, to tell much-needed new Malaysian stories. Through its workshops and education outreach it has sought to share knowledge; through its international collaborations, tours and workshops it has sought to bring Malaysia to the world and the world to Malaysia.

What inspired you to write Gold Rain and Hailstones? And why is the play timely for a restaging?
 I can't recall the original 'inspiration', to be honest. It was a long time ago. Something about the guilt and defensiveness of my own 'dislocation' as ordained by my own society… and perhaps a subtler point that being 'different' was planted even BEFORE the overseas experience? Maybe in the current climate we feel more latitude to express individuality? Bear in mind, I rather hope it speaks to 'mutts' of ALL ilk and races. I am forced to acknowledge that this was a young man's play. Ultimately we arrive at reconciliation with our society in our OWN ways.  
How do you hope the play will be received this time around? And would you have changed anything in the script?
I suppose I hope they'll watch the play with the above sentiments. With nostalgia – and much kindness. To be frank, It was what I wrote at a certain point in my Life. It's become a fossil in quartz, as it were – and special to me for that fact.  
What's keeping you busy lately?
 Working on a new play. Ideas bristling like porcupine quills – but youth's focus and bravado eludes me these days.  
Will you be watching the play?
 Damn right I'll be watching the play! Every night, probably…I just hope I still have enough clout to get a fortnight of comps!
The Instant Café Theatre Company presents GOLD RAIN & HAILSTONES
by Jit Murad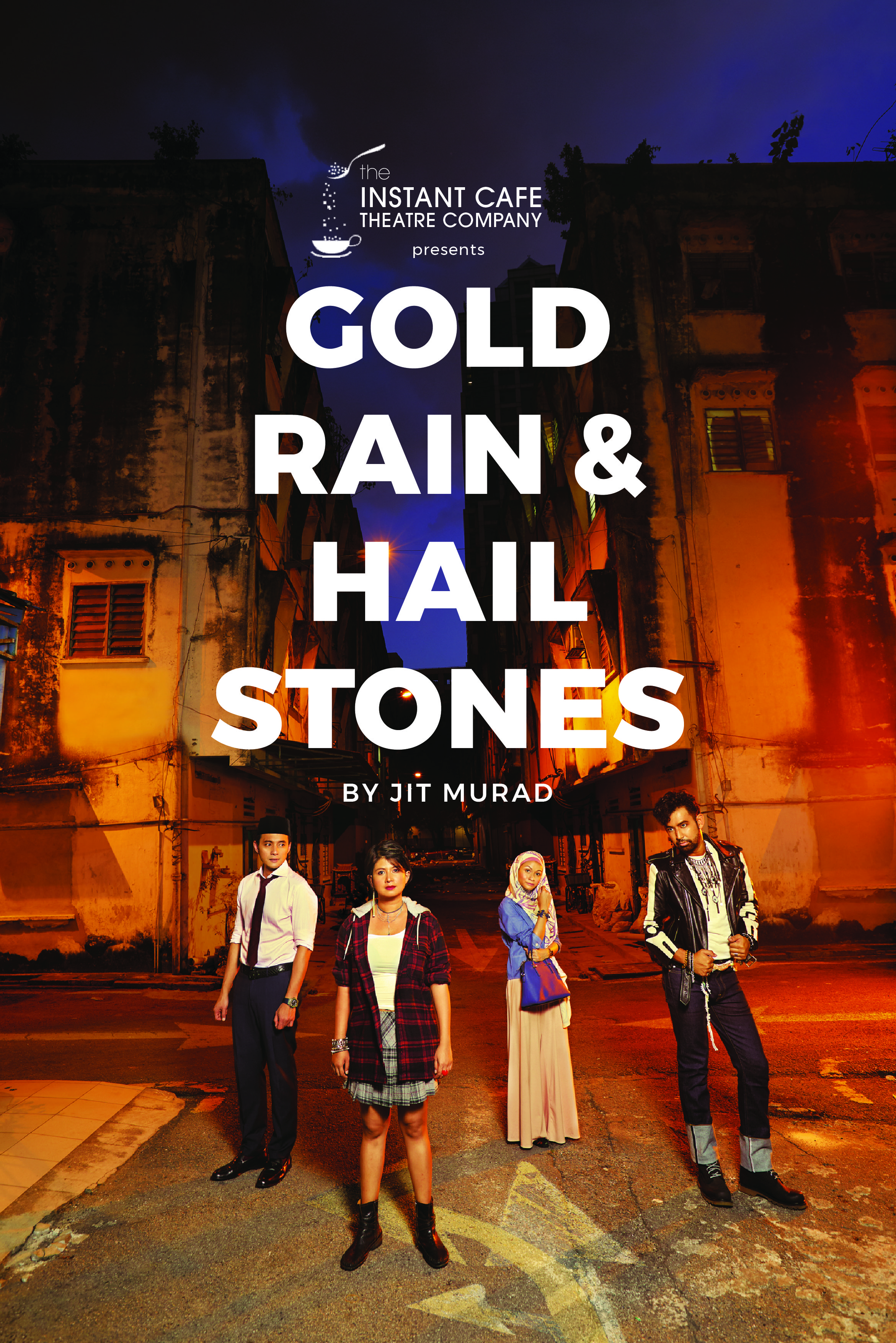 Directed by: Gavin Yap
Featuring: Ghafir Akbar, Sharifah Amani, Redza Minhat, Farah Rani
Venue: DPAC Theatre
Performance Dates & Times 
March 1, 2, 3, 5, 6, 7, 8, 9 @ 8.30PM 
March 2, 3, 9, 10 @ 3PM
Tickets: RM65, RM50
Golden Tickets: Be a Golden Ticket Buyer! Instant Café is dedicated to the idea of keeping ticket prices low! You can help us do that by buying a Golden Ticket for only RM150. A Golden Ticket gets you absolutely nothing but a warm special feeling that you have played some part in subsidizing theatre tickets and spreading the love of theatre in Malaysia. Yes, you have now become an Instant Patron of the Arts. Oh and you also get a choice of the best seats in the house. It doesn't get any more Golden than that.
DPAC Box Office: www.dpac.com.my; 03-4065 0001, 03-4065 0002
Golden Tickets available at dpac or by emailing us at: [email protected]
Instant Café Theatre Company Sdn Bhd Bank Details: RHB, 2140 3500 133 062  
Gold Rain and Hailstones is a Malaysian classic by acclaimed playwright Jit Murad. It was first staged to critical acclaim in 1993, hailed as the best play of the year, moving audiences to laughter and tears. In conjunction with the production we will be holding writing workshops, talkback sessions and a Masterclass. This is the opening production to mark Instant Café's 30th Anniversary. We are still in need of funding to stage this play. To find out more about how you can support Instant Café, this play and our work please contact us at [email protected]