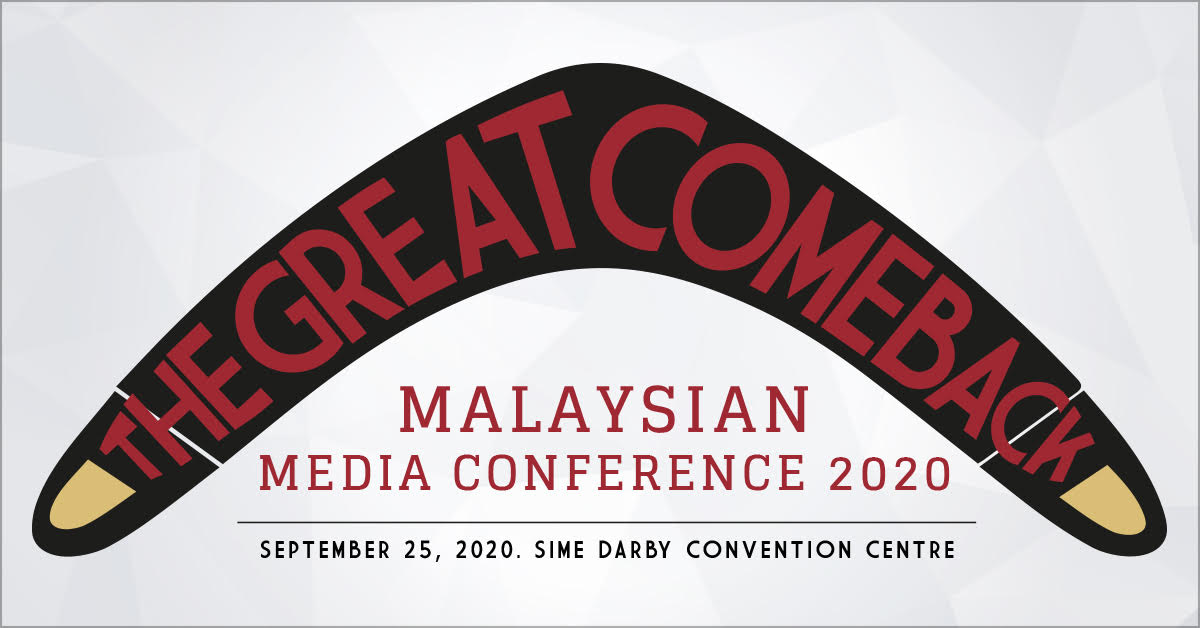 14th Malaysian Media Conference boasts buzz worthy speakers set to lead discourse on the industry's recovery strategy, registration open now.
The Malaysian Media Conference (MMC) is back for its 14th year! Registrations officially started rolling in last week as soon as the page went live; unsurprising for an industry that has been deprived of physical gatherings for almost half a year.
The annual MMC is a proven landmark event for all media and marketing professionals to get everyone on the same page one day in the year. There has never been a year as important as 2020 for stakeholders in our industry to come together and assist each other to bounce back from the unparalleled challenges we've been smacked in the face with.
"As we enter a unique window of opportunity to shape the recovery of our industries, MMC 2020 will offer insights from experts to help inspire the media and marketing industries to determine the future state of Malaysia's communication landscape," said the organising committee of MMC 2020.
The committee added that by hosting a grand industry gathering, MMC 2020 is officially initiating The Great Comeback.
This year, MMC is bringing bright minds together, to give talks that are focused on inspiring the individuals who make up Malaysia's media landscape, foster learning, inspiration and wonder – inevitably provoking conversations that matter for our industry. The line-up of expert speakers include media owners, advertisers, marketers and agency individuals.
Regional Director of Marketing from McDonald's Malaysia, Eugene Lee is one of the speakers and will be discussing the idea 'If you don't get it, don't get into it', to emphasise the importance of understanding what you're marketing, beforehand. Karen Chan, CEO of Asean's fastest growing travel platform, AirAsia.com will also be part of the conference as a guest speaker. Visit the official conference website for the full list of speakers and panelists.
"One of the goals for this year's conference is to trigger an open discourse on the "knots" faced by three symbiotic industries and the potential synergies that could be activated by addressing these challenges," said the chairman of the organising committee, Harmandar Singh. "While COVID-19 has exposed our flaws and vulnerabilities as an industry, it has created the opportunity for us to have more raw and uncensored discussions on what's wrong and how to fix it and it's time for our industry to have that conversation, led by a line-up of speakers and panelists who are experts in their own field."
When asked why a boomerang was used as the official conference logo, the organising committee explained that when they conceptualised the idea that led them to this year's conference theme, they realised that the marketing, media and advertising industry needs a unique weapon to achieve a remarkable recovery.
"A boomerang is a rare example of a non-ballistic weapon," a representative from the organising committee added. "When used correctly, boomerangs fly roughly parallel to the ground and as long as they maintain sufficient speed and rotation, they can resist the force of gravity."
Similarly, the goal of MMC 2020 is to inspire Malaysia's media landscape to follow the trends on the ground while remaining one step ahead and to be flexible as they keep moving forward towards The Great Comeback.

Drawing from the vision and vast expertise of each stakeholder, MMC 2020, in its 14th year, is designed to provide an unparalleled platform for creating, shaping and delivering collaborative solutions for the upcoming decade.
Call 03 7726 2588 for more information. MMC 2020 is also HRDF claimable.